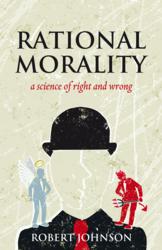 Morality should be relative to each person ... regardless of their position of power and influence or personal tastes.
(PRWEB UK) 20 June 2013
Amidst strong personal reactions to the crimes that Stuart Hall (1) and Jimmy Savile committed (2), author Robert Johnson believes that people need to apply evidence to what underpins their ethics:
"I don't think that someone like Savile should be allowed to do what he likes at the victims' expense, so I don't believe that morality should be relative to each person; instead I think that it should be objectively applied to anyone who does what he did, regardless of their position of power and influence or personal tastes."
While most people agree that the actions of Stuart Hall and Jimmy Savile are deplorable Johnson notes that other topics of moral debate, such as gay marriage, appear to still have a much larger spectrum of opinion:
"If one is to analyse the content of the arguments on same sex marriage, there really isn't a big debate to be had."
Johnson went on to explain, "Religious groups have no evidence for their own spiritual beliefs - being, as they are, personally posited truths - and yet the marriage ceremonies which they can perform have legal recognition, and legal benefits, in some places. However, they are being legally allowed to discriminate based on sexual orientation when it comes to performing these ceremonies, even though the law says that discrimination is illegal as a general matter."
How do we decide what is right and wrong in a consistent manner?
The ethicist makes a call for people to adopt Rational Morality as the basis for human ethics instead of sitting rigidly with our own personal opinions:
"We seem to understand the reason that we need morality, as exemplified by our opinions on things like murder and violent abuse, but we seem to misunderstand that morality doesn't just stop with what we currently find as immoral; it extends to things we may never even have thought about before, or things that we don't currently legislate for. It should work based on fairness, not familiarity."
Johnson makes his point vigorously and backs it up with a scientific thesis of what rational morality is in his first book, released last week, in which he underlines an accessible yet entirely rational theory of morality.
Putting his theory to work he doesn't just aim at easy targets such as Hall and Savile; he approaches difficult issues such as where we should draw the line in animal ethics, how we can use Rational Morality in politics and whether we can ever morally justify religious beliefs.
If nothing else, this should ignite a controversial debate in all who value ethics: from those in academia, all the way through to those people still reeling from the findings of Operation Yewtree (3).
'Rational Morality – a science of right and wrong' (ISBN 1908675179) is available now as a paperback and Kindle ebook.
ENDS
---
NOTES FOR JOURNALISTS
(1) 'Stuart Hall jailed for 15 months for sex assaults', BBC, Jun 17, 2013 (http://www.bbc.co.uk/news/uk-england-22932222)
(2) 'Jimmy Savile Report: key findings', Peter Walker, BBC, Nov 2, 2012 (http://www.bbc.co.uk/news/uk-19921658)
(3) 'Giving Victims a Voice - joint report into allegations made against Jimmy Savile',MPS and NSPCC, Jan 11, 2013 (http://www.nspcc.org.uk/news-and-views/our-news/child-protection-news/13-01-11-yewtree-report/yewtree-report-pdf_wdf93652.pdf)
ABOUT ROBERT JOHNSON
Robert Johnson is a practical ethicist and philosopher of science, graduated in Philosophy from the University of Aberdeen. He specialises in the intersection of morality and rationality, whilst being a staunch advocate of science and evidence based endeavours. Learn more at http://www.robertjohnson.org.uk
If you would like Robert to provide expert comment for your publication or programme, please contact him directly.
ABOUT RATIONAL MORALITY

How do we formulate a coherent moral code in a world without religion?
How can we show natural ideas like 'moral relativism' and 'egoism' to be irrational?
Moreover, how can we create a genuinely scientific and rational theory of morality which, so far, has evaded academics?
Rational Morality sets out to answer these questions by presenting a new form of ethics for the Brian Cox and Richard Dawkins generation; creating 'moral science' from 'moral philosophy' in the process.
In this passionate, thought-provoking and often radical thesis, Robert Johnson presents both a refreshing theory of morality based on science and a guide to the practical consequences of what a truly rational concept of morality involves. Exploring rationality, atheism, animal ethics, determinism and politics in the modern world, Johnson uncovers some surprising and original arguments in each area.