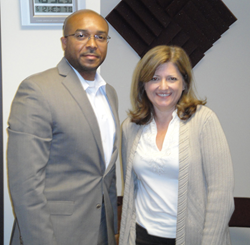 We develop a shared understanding of where we are and where we're headed.
Atlanta, GA (PRWEB) June 21, 2013
On June 12, 2013, co-hosts Stone Payton and Lee Kantor of BusinessRadioX®'s Learning Insights discussed learning and development and sales performance improvement with Chris Whitaker from Aptean. Joining them in the studio was Leighanne Lankford with TrainingPros, sponsor of Learning Insights.
Chris Whitaker is the Director of Training and Development at Aptean, a software company specializing in ERP, CRM and SCM solutions. Aptean software enables customers in a wide range of industries to transition from being merely competitive, to becoming market leaders.
Whitaker has over 15 years of success in L&D, with an emphasis on sales performance improvement. He's played both roles successfully, sales consultant and sales development professional. Whitaker has worked with leading organizations like AchieveGlobal, PDI Ninth House, and Rollins. Using his background in sales, Whitaker uses his experience to develop learning and training programs with an emphasis on sales performance.
According to Whitaker, "Developing training strategies often occurs in the water cooler conversations, and it's about bringing others into the loop to continue the dialog." Aptean has a track record for product and service innovation, and is a financially stable company with a commitment to market leadership in all the industry segments they serve. In training employees "the Aptean way," Whitaker explained, "We develop a shared understanding of where we are and where we're headed."
Whitaker described Aptean's training methods as a mixture of stand-up training, instructor-led virtual training, and self-paced e-learning. These methods are used to train executives, sales force, as well as software engineers.
To learn more about Aptean's approach to learning and development, you can listen to this interview in its entirety at Learning Insights.
About Learning Insights Radio:
http://www.learninginsights.businessradiox.com
Learning Insights airs weekly on Wednesdays at 10am EST. Co-hosts Lee Kantor and Stone Payton interview learning professionals Improving Performance to Drive Business Results. Learning Insights is sponsored by TrainingPros.
About BusinessRadioX®:
BusinessRadioX® provides a turnkey solution for business owners who want to leverage the power of internet radio to meet their best prospects, establish credibility for their organization and heighten the placement of their brand in search engines rankings. With a professional venue and a proven formula, BusinessRadioX® helps hosts podcast their shows and create a regular stream of dynamic content to share with their prospects and feed the search engines every week. Programs are recorded and streamed live to the internet from our studios in the greater Atlanta area. For more information or to hear a live show, visit: http://www.businessradiox.com.