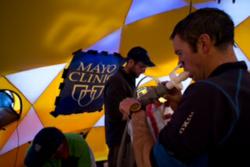 Atlanta, GA (PRWEB) June 24, 2013
A meet and greet with Kris will be held at Mountain High Outfitters at 1248 West Paces Ferry Road Northwest, Atlanta, Georgia 30327 on June 26th, 2013 from 5:00pm to 7:00pm. Afterwards Kris will make his presentation from 7:00pm to 9:00pm. Mountain High Outfitters and The North Face will be raffling off a Mountain 25 tent at 7:00pm. Raffle Tickets are $5 and can be purchased at the Buckhead location. You must be present to win. Proceeds benefit Southeastern Climbers Coalition Hospital Rocks fundraiser.
Kristoffer Erickson represents a different breed. Although a photographer by trade, (Bachelor of Arts from Montana State University, Bozeman), for over a decade Kris has combined his passions for climbing, skiing and photography todocument exploration throughout the greater mountain ranges of the world. His unique skill set has provided him the opportunity to work with the most accomplished athletes and for the most prestigious editorial and commercial clients. Nicknamed the "invisible man," Kris is usually the one behind the camera lens, on the chin scraping slope, ready to capture the action before it happens. An accomplished ski-mountaineer and alpinist himself, Kris is a sponsored athlete for The North Face and holds first ascents and descents from the Antarctic Peninsula to the Himalaya, including the first ski descent of an 8,000 meter peak by an American male (Cho Oyu, 8201m, 2002). Throughout his travels, Kris has developed a passion for the people of the mountains and has committed to investing a significant amount of his time to philanthropic endeavors that increase the quality of life in remote mountain regions or further opportunities for climbing and exploration in his own community. Kris' most recent humanitarian efforts include the Khumbu Climbing School, the Himalayan Cataract Project, the Hans Saari Memorial Fund and the Southwest Montana Climbers' Coalition. Kris is co-owner of Erickson Creative Group, LLC with his wife Cloe. They live in Livingston, MT , USA with their daughter Noor.
For this presentation Kris will give a slideshow and speak about his recent trips, specifically the recent expedition on Everest where Kris joined a team of doctors from the Mayo Clinic as well as National Geographic and The North Face athletes to study the effects of oxygen deprivation in relation to heart attack/prevention. He also has an interesting presentation on the summit and Ski of Lhotse(the fourth tallest mountain on earth) with TNF athlete Hilary O'Neil.
This event is posted on Mountain High Outfitters Facebook page at: https://www.facebook.com/events/541540262571996/