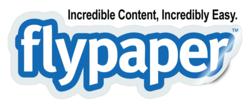 "We've taken everything that's great about Flypaper and grown it into an end-to-end digital signage solution. Same ease of use. Same power. Same great customer service."
Cincinnati, Ohio (PRWEB) June 27, 2013
Flypaper Studio, Inc. is expanding its offering of digital signage products by introducing the all-new Flypaper Go, a complete end-to-end digital signage solution that combines its industry-leading content creation software with the ability to manage and deliver the resulting content.
"Flypaper Go combines our easy-to-use content creation software with everything else you need," says Don Pierson, founder and president of Flypaper Studio, Inc. "We've taken everything that's great about Flypaper and grown it into an end-to-end digital signage solution. Same ease of use. Same power. Same great customer service."
Flypaper Go offers the following content creation options:
Flypaper Creator – the base, easy-to-use content creation software
Flypaper Creator Pro – the professional version adds essential select features such as a dashboard, content repository, more content components and support for premium components
Flypaper Connect Component Package – a family of components that enable data-connected signage. Easily update signage real-time by changing values in a variety of familiar data sources such as Google spreadsheets, Google Calendar, Excel spreadsheets and more
Flypaper Premium Components - preprogrammed advanced components such as a Wayfinder and Twitter Feed that can be dragged and dropped into content with no programming required
Content Creation Services - Flypaper design experts will create initial content and, at the same time, train users to create original content in the future
The Flypaper CMS enables users to schedule and manage content, as well as monitor all displays, from a single location. Its inclusive components include:
The Flypaper Scheduler – software that allow the user to schedule which content plays when and where
The Flypaper Dashboard – software that allows users to monitor all displays from a single location
The FlyPlayer – software installed on each screen to process information sent from the Flypaper Scheduler
In addition, Flypaper Go offers several levels of training, from free webinars to on-site sessions conducted by certified Flypaper trainers.
For more information about Flypaper Go, please visit the Flypaper website at http://www.Flypaper.com .
About Flypaper™ Studio, Inc. and Trivantis Corporation
Flypaper™ Studio, Inc. is a wholly owned subsidiary of Trivantis Corporation. Flypaper is a leading content-creation platform that empowers users to create, share, track and reuse high-impact, interactive graphics and video content. The user edits and manipulates components without complicated programming. Trivantis' flagship product is Lectora®, the world's leading e-learning software. Lectora is used by Global 2000 companies in more than 125 countries and is available in six languages. Trivantis Corporation is headquartered in Cincinnati, Ohio, and has offices in Boca Raton, Phoenix, Paris, London and Beijing. Trivantis, Lectora, Flypaper, CourseMill®, Snap! By Lectora® and Snap! Empower are trademarks of Trivantis Corporation.
Website: http://www.Flypaper.com
Phone: 1.877.929.0188 / +1.513.929.0188