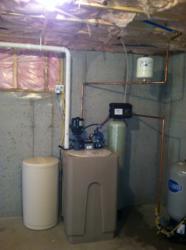 Meredith, NH (PRWEB) June 25, 2013
A & B Water is a water filtration company located in Meredith, NH that specializes in arsenic and radon mitigation. They have continued to reach their goal of benefiting as many families as possible by providing quality drinking water for households both locally and nationwide. It is safe to say that the group at A & B Water Consultants now feels that they can proudly stand as a leading water filtration company reaching their 1000th installment of the company's arsenic water cleaning system.
A & B Water Consultants has assembled a systematic water treatment approach for any household in need of purification of their running water. The consultants perform four simple tasks in their water filtration process: They perform free analyzing and water testing, they recommend specific equipment suitable to the test results, and they ship the equipment and then guide the client through the entire installation process.
After 50 years of providing residents with purified water, those at A & B Water Consultants continue to find preservation in the upkeep of the safety of as many local residents as possible. The recently hit milestone of 1,000 arsenic system installments, clarifies the level of effort put forth for every water treatment they have performed. They reach out to residents with an organized water treatment method to achieve success in solving all indicated water problems; they continue to reassure families with beneficial elements in the treatment of their newly clean water.
The New England based company pins its plans locally, toward lessening arsenic-induced risks of particular cancers and other diseases. A & B Water Consultants straps onto a prominent goal to keep residents safe from and informed about the harmful effects of water containing arsenic which is found throughout the northeast region. Whether it is water filtration, softening, or absorption, A & B water has made its 1000th effort to secure the safety of drinking water throughout New England. For them, every water filtration job is not a job, but a gift of protection against harmful water supply.
A & B Water Consultants is taking water filtration to a new level. The company has reached 1,000 installments of arsenic systems in the effort to protect as many New England residents as possible from harmful water. Their step-by-step process and dignity towards the community's health, allows for them to achieve consistent success in every household-water treatment. For more information on the above content, please contact A & B Water Consultants at:
A & B Water Consultants
12 Emily Circle
Meredith, NH 03253
Phone: 800.613.0121
Fax: 800.613.0535
Email: info@fixyourwater.com