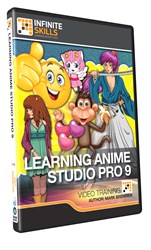 Learn Anime Studio Pro 9 At Your Own Speed
(PRWEB) June 21, 2013
Software training firm InfiniteSkills' Inc. last week introduced its "Learning Anime Studio Pro 9 Tutorial," a course designed to teach new users the fundamental skills and techniques for animating in this popular 2D software.
Anime Studio Pro, originally Moho, was originally imagined as a creative outlet for anime fans in the late 1990s. Though it remains primarily 2D animation program for creating flash cartoons, cut-out style animation, and mimicking pencil drawing animation, Anime Studio has grown to include many 3D elements, including the ability to import and create 3D models for illustrating in 3D.
In "Learning Anime Studio Pro 9," students will learn all the key techniques and tools to begin creating their own cartoons using Anime Studio.
Learning Anime Studio Pro 9 Training Video
Course author Mark Bremmer works professionally as illustrator and animator and has experience in designing animation for corporations and television. Bremmer has been a feature presenter at The National Association of Broadcasters and SIGGRAPH Convention for animators. In addition to his animation and training practice, he has been a regular contributor to leading illustration magazines.
Bremmer's extensive experience and easy-going teaching style make Learning Anime Studio Pro 9 a fun and informative way to get started designing in this user-friendly software. Bremmer guides users effortlessly through the fundamental drawing and rigging tools, allowing students to experience the thrill of creating with this fun-to-use program.
After explaining the general layout, the various palettes and the timeline, Bremmer dives into the Anime Studio Pro's drawing tools, explaining how to import or start from scratch, work with organic shapes, use brushes, styles, masking, and much more.
The course also covers all the important techniques for working with bones and bone dynamics, rigging, animating, and working with special effects.
Bremmer concludes with project designed to synthesize these tools and techniques in the design of a basic cartoon, a castle backdrop with a character animated inside it.
http://www.infiniteskills.com/training/learning-anime-studio-pro-9.html
InfiniteSkills offers its Learning Anime Studio Pro 9 Training Video either as a DVD or a direct download from the company website at a retail price of $99.95. All InfiniteSkills titles and formats are compatible with Mac and Windows operating systems, and shipping is available around the globe. Additionally, InfiniteSkills tutorials are supported by project files which correspond to examples in the videos, allowing users to work alongside their instructors right on their computer or iPad.
About InfiniteSkills Inc.
A leader in the field of software training, InfiniteSkills strives to offer the highest quality training available at an affordable cost. InfiniteSkills tutorials are task-oriented instructional videos, teaching complex skills by providing hands-on examples and guiding users as they carry out critical objectives. InfiniteSkills offers a comprehensive range of software titles available as DVDs, digital downloads, as well as iPad editions—keeping with company aim of delivering professional training to customers anywhere they want to learn.