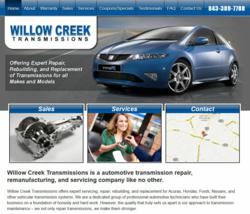 All of their products and services carry a 2-year, unlimited mile warranty.
Florence, SC (PRWEB) June 20, 2013
Since opening in 2004, Willow Creek Transmissions has been serving Florence, SC and the surrounding area for almost a decade. By dedicating themselves to the highest quality transmission repairs, overhauls, and updates, Willow Creek quickly made a name for themselves as the most reliable transmission repair shop in the region. As word of their expertise and quality service spread, Willow Creek grew from a small, local shop to one that services folks from hundreds of miles around.
The experts at Willow Creek live and breathe transmissions repair. Their specialties include Honda Odyssey, Honda Accord, Honda Prelude, Acura TI and CI, Ford Explorer, Mercury Mountaineer, and Nissan Maxima, as well as many other makes and models. Replacement transmissions for import models can be difficult to find. Customers deserve a trusted resource for getting their parts quickly and their repairs done correctly. Since so many of their customers are long-distance, Willow Creek also repairs and remanufactures transmissions ahead of time for sale online. This allows them to provide one-day transmission installations, unique in the area. All of their products and services carry a 2-year, unlimited mile warranty. Their remanufactured transmissions are even better than they were brand-new, and their rock-solid warranty means your money is well invested. Their other services include fluid and filter changes, drain and fill's, and full transmission fluid flushes.It's no wonder that Willow Creek has a garnered a reputation as one of the most dependable transmission repair companies around.
On the web, WillowCreekTransmissions.com reflects the same polish and quality that you'd see inside of their shop. Put together by the folks at Bluetone Media, the site is sharp and attention-grabbing. Most importantly though, it's focused on delivering the information that customers' need right up front. Coupled with expert SEO work to ensure high online visibility, it's certain that Willow Creek Transmissions will be seeing even more happy customers.
With and A+ Better Business Bureau Rating and many technicians with 15+ years of experience and ASE(Automotive Service Excellence) certification, it's no wonder so many people choose Willow Creek Transmissions. Visit willowcreektransmissions.com today to see the professional services they offer, explore their in-stock inventory, or ask a question.