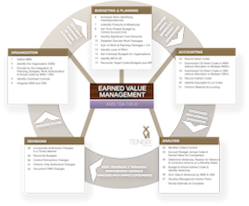 IBR's need not be so intimidating if you know what is expected and are well prepared
Vurginia Beach, VA (PRWEB) June 25, 2013
Using experiences from across hundreds of IBR's, Ten Six has captured these into a structured approach that can help prepare clients more efficiently for an IBR. The Ten Six services also support clients who have recently had an IBR conducted, had Discrepancy Reports (DR) generated and need to get an effective Corrective Action Plan (CAP) developed and implemented.
"We often encounter clients who are faced with an impending Integrated Baseline Review (IBR) with the government and need urgent support," said Emily Foster, Director of Marketing. "Preparing the team together with all the necessary artifacts and data traceability while maintaining a high standard of quality in a very short timescale is a huge challenge. The Ten Six team has considerable experience in helping clients prepare for and conduct a successful IBR."
Ten Six uses a proven assessment and implementation methodology that provides clients a structured approach based on industry best practices and on the experiences of hundreds of successful IBR's. This allows for rapid improvement in areas where the client needs it and typically covers areas including people, process, information quality, tools and technology.
"We work with our clients to rapidly address their IBR requirements by thoroughly preparing their team, ensuring all necessary processes are in place and making sure all contract information is accurate and traceable. IBR's need not be so intimidating if you know what is expected and are well prepared" said Foster.
The Ten Six process includes the presentation of IBR maturity assessment charts. This allows a clients team to better understand their readiness to successfully perform an IBR.
You can learn more about Ten Six's IBR capabilities here http://www.tensixconsulting.com/consulting-services/earned-value-services/integrated-baseline-review-ibr-preparation-and-conduct/.