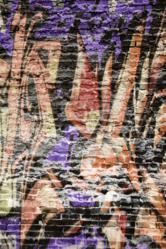 The only difference betwwen graffiti and art is permission.
Dallas, TX (PRWEB) June 19, 2013
Air Graffiti Dallas has a new technology that might help that dream come to pass. If your city is facing the challenges of Graffiti and the cost associated with it, then this might be a story you want to hear.
The cost of graffiti in the US has grown from $15 Billon in the late 90's to over $25 Billon by 2008 according to a study conducted by the NoGraf Network.
Most cities now have some kind of graffiti abatement program in place that works with local police departments, public works, and parks and recreation that incorporate components of education, clean-up, and community service. These programs haven proven to have little effectiveness in curbing the Graffiti activity.
Now, a new technology and a unique approach to the challenge of graffiti may be the answer to actually slowing and reducing graffiti.
Air Graffiti Dallas, the brainchild of Dennis Walthers, started out as an event entertainment technology and quickly caught on with high-end event planners looking to differentiate themselves in the competitive market of party planning.
Essentially Air Graffiti is an 8' X 10' Virtual Wall that emulates spray paint digitally with it's proprietary software. Artist have access to an endless pallet of colors, shading, blur, transparency, spray width, and drip that can be controlled right on the screen using a digital spray paint can that emits Infrared light instead of paint.
"Air Graffiti technology is an artist dream, as it never runs out of paint, there is no mess, no toxic fumes, endless combinations of color and most importantly and undo button as well as an eraser. Air Graffiti also comes with drawing tools for straight lines, circles, squares, and fill," added Walthers
Air Graffiti even has the ability to capture the paint stokes that make up the art which can be saved as a video of the entire creation process and played back or shared on YouTube, and social media. Complete works of art can be printed, emailed or share on social media directly from the wall or uploaded to the cloud and accessed via a QR code that can be printed on 4X6 prints at an event according to the website at http://www.AirGraffitiDallas.com
The concept behind using the Air Graffiti technology as a part of a graffiti abatement program came to Walthers after he started using artist at local events. "Artist were creating art relevant to an event theme in a live setting on the 8' X 10' canvas that I called live art entertainment".
"It's fun to see how crowds of people gather to watch as artist work with the technology on this huge canvas to create art. They are amazed by both the technology and the artist capability. It was also interesting to hear how much the artist enjoy using the technology," said Walthers
With that as the nucleus, the idea of providing an outlet to the street artist in the form of digital spray paint was born.
"When you provide graffiti artist a legal outlet to create and show their art, they begin to develop a since of pride in their work that creates an even greater passion to strive for better pieces of work and to not deface public areas that would cause them to loose privileges of using the technology. In fact, we highly recommend that communities have any artist sign a promissory agreement before using the Air Graffiti technology that allows them the privilege of using the Air Graffiti application as long as they abstain from using public property for their art. Couple this with the ability to show, print and sell an artists work with a portion of the proceeds going back to the abatement program, and artist and you have the basis for a successful long term solution," said Walthers.
"In fact what happens is that street artist become evangelists that help police and rid the streets of unwanted graffiti. Managed properly a city can use a graffiti abatement technology tool like Air Graffiti to reduce expenses associated with cleaning up and policing graffiti," added Walthers.
"I see an opportunity for cities across the globe to be able to create Air Graffiti contest in local and national basis that can raise awareness and create true opportunities for artist that were once despised and punished for the crime of graffiti. " Said Walthers
"While we can't rid a city of vandalism we think we can help cities change the way they fight the problem of graffiti and make a big impact that is better for all concerned. After all, the only difference between graffiti and art is permission," added Walthers.
For more information on Air Graffiti visit their website at http://www.AirGraffitiDallas.com or contact Dennis Walthers at 214-293-5044 or dwalthers (at) AirGraffitiDallas (dot) com.