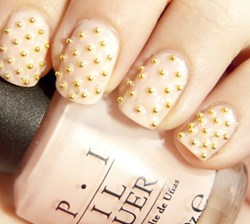 Right after I stopped using nail bath my polish stayed on days after it normally it would have!
(PRWEB) June 22, 2013
Nobody can argue with the democracy of nail polishes. They are size-less, ageless, genderless and race-less. It the most inexpensive way to wear whatever color a women wants, when she wants. Whether using a glittery pink trying to spice up a black ensemble or a nude to play down the outfit, whatever the situation is, there always nail polishes to match. The only downfall to the perfect mani is when it begins to chip the next day! TheBeautyPlace.com presents how to keep the perfect manicure.
First and foremost, avoid getting the nail bath. Although it may be relaxing, the hand soak most manicures include could actually be shortening the lifespan of the nail polish. While the nails soak in the water, their natural shape expands, then after the nails are polished, the water evaporates and the nails contract which then cause the polish to chip or crack.
Next is to monitor the heat. The ultraviolet light that is used to dry nails faster also causes it chip faster. Instead use a blow dryer that blows out cool air. It takes about 12 hours for the nail's to fully dry so avoid washing hands with warm or hot in that time frame.
Make sure that there is a base polish like, OPI Natural Base Coat, on the nails. Its common knowledge that a top coat is vital to seal the nail polish but what's equally important is the first coat. According to shape magazine, "From a chemical point of view, a base coat adheres to nails better than a nail lacquer, provides a seal that the nail polish can attach itself to, and is fortified with ingredients that smooth nail surfaces, allowing polish to glide on evenly so it lasts longer." Always use a first coat!
Be selective about which products are being used. Hand sanitizers are a standard stay in purses today; although they destroy germs they also destroy the manicure. Alcohol destroys the top coat of manicures causing the color to fade and become dull. In addition, stay away from exfoliators and scrubs and instead choose a product like Pevonia Ligne Foundamentale Combination Skin Lotion that is alcohol free. Helpful hint: if the product has a fragrance it generally leads to drying and chaffing.
Finally before the cleaning gloves come on, use a thin coat of petroleum jelly over the entire nail bed. Using an Oil based product like,OPI Nail & Cuticle Replenishing Oil, will act as a protective coat thwarting polish from chipping or chafing.
Whether on a two week trip or gone for the weekend the perfect manicure deserves the right to come with! Follow these tips and tricks and will guarantee the perfect manicure will stay put.