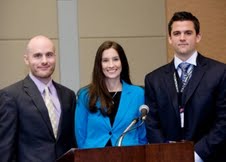 Very entertaining and informative!
Basking Ridge, NJ (PRWEB) June 20, 2013
Lawyer.com Member Representatives Colleen Joyce, Matt Germann, and Kevin Maher outlined online marketing for lawyers in a maxed-capacity room last week at the 2013 SASF Conference in Branson, Missouri. During the 50-minute presentation, the speakers reviewed several steps that a small firm or solo practitioner may take to increase their online presence and distributed five Google Chromebooks throughout the lecture to participating attendees. Each lawyer in the audience also received 1.0 of their 15 required annual MCLE hours.
Through the use of detailed statistics, relevant examples, and an interactive PowerPoint presentation, the speakers highlighted the importance of being visible on the Internet. One of the many recurring themes, Content is King, reiterated a lawyer's need to showcase their business to the online community.
Organized into four sections, "Can You Be Found?..." covers Website Best Practices, Search Engine Optimization, Google AdWords, and Social Media, including Google+ and Facebook. Though extensive, one attendee referred to the curriculum as "great, comprehensive information and well presented." Another described the lecture as "entertaining" and "kept my attention."
At various points throughout the presentation, attendees were asked to use Twitter to tweet statements, Google phrases, and locate specific websites, further stressing the importance of being active on the Internet. Those who were able to perform each task quickly and correctly went home with a Google Chromebook as a gift from the Lawyer.com Member Representative team.