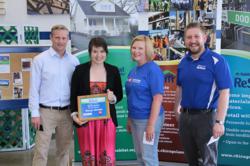 Addison, IL (PRWEB) June 21, 2013
Fifteen-year-old Margo Gislain of Plainfield had a vision. Earlier this spring, Gislain set her hopes on a redecorated bedroom to call her own. True to her bargain roots, a special trip to the DuPage Habitat ReStore unexpectedly provided that spark of artistic genius. A unique bargain find eventually led to winning Chicagoland Habitat Restore's number one prize in its first ever "What's your ReStory" contest, sponsored by BMO Harris Bank and New Balance Chicago.
"My mom and I ventured to the ReStore at least three times a month since we found it and couldn't be happier with the things that we have found," Gislain recalled. "My most recent find at the Habitat ReStore were these giant pine cubes and a scrapped retail display. I immediately knew they would form nicely to create an entertainment center in my room."
After resurfacing the cubes with a bright blue interior and white exterior, Gislain used L-brackets to mount her restored pine cubes to her bedroom wall. Although this was quite the lengthy process, it gave Gislain the time to envision yet another personal touch on her repurposed treasure. Each cube was eventually decorated individually to represent a special event or hobby throughout Gislain's life, including memories from a recent theater production, jewelry finds, and pictures of friends.
Gislain also repurposed a scrapped GAP retail display to form a unique scarf rack. Adding her colorful scarf collection to the display provided the right pop of color and personality for any artist. The scarf rack now doubles as both a convenient storage unit and one-of-a-kind piece of art in Gislain's new room.
"Margo really impressed the judges with her great creativity and unique ability to take something ordinary and repurpose into something entirely different that expresses her personality," commented Jim Fessler, ReStore manager. "We are very excited to see how Margo's ReStory motivates and inspires others to stop by the ReStore and enter in one of our future contests."
Gislain is the recipient of a $500 Mastercard Gift Card grand prize made possible by sponsor BMO Harris Bank. Other prizes include $250 store gift certificates from sponsor New Balance Chicago and $100 gift certificates to participating Habitat Restores.
Subsequent "What's Your ReStory" contests will be held in August and October. A panel of BMO Harris Bank, New Balance Chicago Stores and Habitat ReStore representatives will evaluate all entries to determine a winner. Complete contest information can be found online at http://www.chicagolandhabitat.org.
"I am proud to have done this project on my own at this age," Gislain rejoiced. "Without the ReStore, there is no way I would have been able to complete such an amazing room transformation!" Looks like someone else's junk really can be another person's treasure.
About DuPage Habitat for Humanity
DuPage Habitat for Humanity is a locally run affiliate of Habitat for Humanity International, a nonprofit, ecumenical Christian housing organization. DuPage Habitat serves DuPage County, Illinois and works in partnership with people in need to build modest and affordable housing by building and renovating houses using donated materials and volunteer labor. These houses are then sold to limited-income families needing decent shelter. Those who qualify must demonstrate their commitment to home ownership by investing 250 hours of sweat equity and repaying the cost of their house through a no-interest long-term loan. This "giving a hand up—not a hand out" approach gives families pride in their accomplishment of homeownership. For further information please visit http://www.dupagehabitat.org.
About BMO Harris Bank
Based in Chicago, BMO Harris Bank N.A. provides a broad range of personal banking products and solutions through over 600 branches and approximately 1,300 ATMs in Illinois, Wisconsin, Indiana, Kansas, Missouri, Minnesota, Nevada, Arizona and Florida. BMO Harris Bank's commercial banking team provides a combination of sector expertise, local knowledge and mid-market focus throughout the U.S. Deposit and loan products and services provided by BMO Harris Bank N.A. Member FDIC. BMO Harris BankSM is a trade name used by BMO Harris Bank N.A. BMO Harris Bank is part of BMO Financial Group, a North American financial organization with 1,600 branches, and a retail deposit base of approximately $180 billion.
About New Balance Chicago
New Balance Chicago is an independently owned and operated licensee of New Balance Athletic Shoe, Inc. The Lincoln Park location was the first New Balance store to open in the country in 1995. Since then Oakbrook Terrace (2001), Orland Park (2006) and Schaumburg (2009) have opened in the surrounding suburbs. New Balance Chicago specializes in a wide selection of styles in multiple sizes and widths.