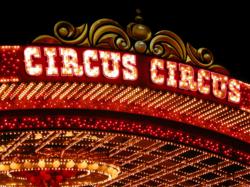 (PRWEB) June 29, 2013
The "Cirque de Team" event is a circus-inspired team building program that requires a group of creative, daring and fun-loving individuals to join forces and tackle the tightrope.
Behind the trapeze artists, acrobats, ring leaders and lion tamers is a powerful force of teamwork joining them together to produce a spectacular event. Anyone who has ever been to a Ringling Bros. Circus event can muster just how much team bonding is involved in one show. The same force can be developed to bring accountants, managers, CEOs, etc. together to build an incredible team at the office.
In fact, TeamBonding believes that the equation to success is simple.
Fun + Interactive = A happier, healthier team
As a newly launched event by TeamBonding, they are confident in the success of the program. Backed by dedicated event managers and resilient facilitators, Cirque de Team is a sure fire way to have teams come together, compete against one another, and have a blast. With events such as, tight rope walking, pie throwing, trapeze swinging, and stilt walking, Cirque de Team provides entertainment and team building for all.
For more information on TeamBonding, please call 1.888.398.8326 or e-mail hello(at)teambonding(dot)com. Details can also be found on the company's website: http://www.teambonding.com/programs/circus-team-building/
About TeamBonding
Over twenty years ago, TeamBonding started with a simple question: how can we facilitate true, authentic bonds between members of corporate teams? Who hasn't been to a corporate event or participated in "team building" activities where we're meant to be a team but everything seems forced and awkward? TeamBonding takes a different approach, incorporating the power of play to form bonds that are authentic and profound. When bonds run deep, teams are more collaborative and more caring of each other, which makes them more effective and productive. For more information on the organization, please visit http://www.teambonding.com.