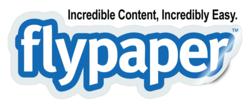 "Flypaper CMS makes it possible to create, manage and schedule your digital content under a single umbrella."
Cincinnati, Ohio (PRWEB) June 20, 2013
Flypaper™ Studio, Inc. has announced the introduction of Flypaper CMS. By adding a content management system to its product portfolio, Flypaper now offers the full range of digital signage solutions, from content creation to delivery. Flypaper CMS enables users to manage, schedule and monitor multiple digital display screens and networks from a single workstation.
"Our content creation software makes it easy to create great, interactive digital content," says Flypaper President, Don Pierson. "Now, we're making it easy to manage that content as well. Flypaper CMS makes it possible to create, manage and schedule your digital content under a single umbrella."
Flypaper CMS consists of a trio of elements that create a single, easy-to-use system. The Scheduler lets you specify when, where and which of your content will appear. Just a few keystrokes allow different content to appear in different locations. Content schedules can be prioritized for specified periods of time, allowing short-term promotions to take precedence over regularly scheduled content.
The Dashboard is "control central". From a single screen, you can control all your displays in a unified manner. You can also instantly see if any screens are experiencing abnormal conditions such as a loss of Internet connectivity or low disk space.
The FlyPlayer is installed on each of your screens and processes information sent from the scheduler. If the display loses its Internet connection, the player will continue to run the current content until the connection is restored. Then it will automatically check for updated schedules and content. The FlyPlayer is available in single or dual-screen format.
Flypaper CMS resides in the Cloud, meaning it can be accessed through any standard web browser without the need to install or maintain expensive servers or infrastructure.
For additional information on Flypaper CMS, visit our website at http://www.flypaper.com
About Flypaper™ Studio, Inc. and Trivantis Corporation
Flypaper™ Studio, Inc. is a wholly owned subsidiary of Trivantis Corporation. Flypaper is a leading content-creation platform that empowers users to create, share, track and reuse high-impact, interactive graphics and video content. The user edits and manipulates components without complicated programming. Trivantis' flagship product is Lectora®, the world's leading e-learning software. Lectora is used by Global 2000 companies in more than 125 countries and is available in six languages. Trivantis Corporation is headquartered in Cincinnati, Ohio, and has offices in Boca Raton, Phoenix, Paris, London and Beijing. Trivantis, Lectora, Flypaper, CourseMill®, Snap! By Lectora® and Snap! Empower are trademarks of Trivantis Corporation.
Website: http://www.Flypaper.com
Phone: 1.877.929.0188 / +1.513.929.0188