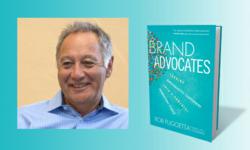 ...cultivate brand advocates that ultimately lead to sales conversions.
Los Angeles, CA (PRWEB) June 24, 2013
Tuesday, July 9, 2013, Rob Fuggetta, Founder and CEO of Zuberance, will engage the Marketing Executives Networking Group (MENG) LA Chapter with a presentation on "Unleashing Brand Advocates" at The Equinox Sports Club LA, 1835 Sepulveda Blvd., West Los Angeles 90025.
Driving advocacy and loyalty is now the #1 digital priority for CMOs worldwide, according to a recent IBM study. And eMarketer stated recently: "Brand advocacy is now a critical part of the social media marketing mix." Rob Fuggetta, the world's leading expert on brand advocacy, will share real-world insights and experiences on how B2C and B2B brands are leveraging their Advocates to drive advocacy and sales.
Fuggetta's presentation will answer these questions:
1. How to identify Brand Advocates
2. How to energize Advocates to serve as a powerful, sustainable marketing force
3. How to track and optimize results of advocacy programs
Fuggetta also will share 5 Best Practices of Brand Advocacy including whether companies should pay or provide incentives to Brand Advocates.
Says Fuggetta, "MENG senior marketing executives are undoubtedly tasked to not only increase brand reach via social media channels, but also to cultivate brand advocates that ultimately lead to sales conversions."
Says Robert Ng, MENG LA Chapter Chair and President of Bullseye Consulting, "MENG LA is excited to have Rob Fuggetta as a speaker at our event. Rob's experience in brand advocacy and brand loyalty will give MENG members actionable insights to grow online brand presence and convert fans to sales."
This 6 pm session is only open to senior marketing executives and guests of MENG members. The event is free to attend, and those interested in dining may purchase food from the café on the side to bring into the meeting room. Pre-registration is required. To register: http://bit.ly/LAbrand
About Rob Fuggetta
Rob Fuggetta is the world's leading expert on brand advocacy. Rob is the founder & CEO of Zuberance, which pioneered the Advocate marketing category. Zuberance has managed and powered over 1,000 Advocate marketing programs involving millions of Brand Advocates for leading B2C & B2B brands.
Rob is the author of the #1 book in the Advocate marketing category: "Brand Advocates: Turning Enthusiastic Customers into a Powerful Marketing Force" (Wiley, 2012.) Rob is a popular, in-demand speaker who has presented at Ad Tech, ANA (The Association of National Advertisers), the Online Marketing Summit, the Word of Mouth Marketing Association Summit, the Las Vegas Interactive Marketing Association (LVIMA), Club Industry, and at numerous AMA and PRSA events. In addition, Rob's articles about brand advocacy have appeared in Fast Company, Forbes, iMedia, and other publications.
About MENG
Founded in 1995, MENG is the leading national community of top-level marketing executives. The organization is devoted to enhancing its members' professional skills, relationships, and knowledge, priding itself on a culture of camaraderie. MENG is structured as a not-for-profit membership organization with more than 1400 members. Membership is made up of marketing individuals who are at or above the VP level in their organization.
MENG fosters career and personal success across nearly all industries and marketing specialties by providing networking opportunities and the ability to share knowledge and best practices. To learn more about MENG or to access its database of executive-level marketing professionals, speakers, and consultants, visit http://www.MENGonline.com.