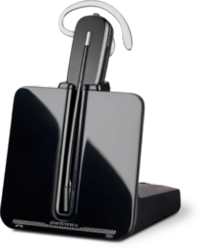 Milwaukee, WI (PRWEB) June 26, 2013
A problem many companies face is high wireless density issues. This problem is caused by having a large number of employees using wireless hands free headsets in the same area. The result is weak connections and unclear conversations, a problem for businesses that rely on phones for most of their business. It is important to have the maximum number of wireless headsets while maintaining strong connections. Telcom & Data is proud to introduce a product that accomplishes this task. The Plantronics Wireless Headset CS500 XD Series allows for 3x the amount of wireless activity compared to prior series.
The Plantronics CS500 XD Wireless Headset Series is a simple device for hands-free phone calls. The new system replaces the CS50 as a solution for locations that use many wireless headsets. The CS500 XD series is based on the design of the previous CS500 series and includes the same features. One touch call answer/end, volume control and mute allow the user to manage calls from up to 350 feet from the charging base. The CS500 XD systems supports conferencing for up to three XD series headsets. New headsets connect to the base simply by docking the headset in the changing base.
Designed for environments that use many wireless headsets, the CS500 XD series features 900MHz with 3x more available channels compared to the previous series. Choose between narrow or wideband professional grade audio quality. Narrowband extends talk time and wideband mode enables clearer conversations. An extended boom and noise-canceling microphone filter out background noise so listeners can clearly hear conversation. Enhanced digital signal processing (DSP) provides clear audio the way it's meant to be heard.
Three comfortable wearing options are available. The convertible style is the most versatile of the three. It is customizable for over the ear, over the head or behind the head use. The over the head monaural is ideal for those wanting to still be aware of their environment. It provides that and comfort by only covering one ear. The over the head binaural blocks out background noise by comfortably covering both ears.
For more information about the new Plantronics CS500 XD Wireless Headset series view it on Telcom & Data's website or call 800-335-0229.
About Telcom & Data: Since 1996 Telcom & Data has been providing thousands of telecommunications solutions to organizations around the world to measurably improve communications. The company is a leader in business phone systems including VoIP phones, conference phones, and headsets. Telcom & Data maintains a network of over 1600 technicians with locations in Chicago, Milwaukee, and Miami.
About Plantronics: Plantronics offers one of the industry's most complete families of corded and wireless products for unified communications. Widely recognized for their sound quality, reliability, and comfort, Plantronics' audio solutions help companies extend the benefits of IP communications.