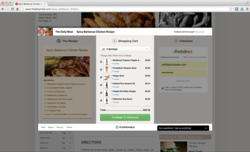 "Plenishable is a scalable, seamless way to make cooking at home easier for today's busy families."
New York, NY (PRWEB) June 24, 2013
Launching today, Plenishable allows a recipe site reader to automatically fill a digital shopping cart with the right ingredients from leading online grocers like Fresh Direct, Peapod, or Amazon Fresh. With a few simple clicks, readers can now buy and have delivered the ingredients to cook delicious meals from their favorite recipe sites.
"We started Plenishable with a simple mission – to make cooking at home easier. We've been thrilled with the response from publishers, grocers, and shoppers, and we're looking forward to helping America cook more at home," says Jeff Freedman, Co-Founder.
As the "Buy Button" for food and recipe publishers nationwide, Plenishable technology gives readers of sites like The Daily Meal a valuable tool that goes far beyond the "save" or "print" buttons. With just a line of code added to publishers' sites, Plenishable's foolproof technology contextually understands a recipe's ingredients and connects it to real-time grocery inventory, so when readers discover a great recipe, they can quickly scale the recipe to the right number of servings, change brands, unselect ingredients already purchased, and choose their preferred grocer and delivery time.
"We've taken a different approach than some of the other food tech companies out there. By providing infrastructure linking publishers and grocers, we believe we can more rapidly impact how people get food into their homes," says Matt Levin, Co-Founder. "Plenishable is a scalable, seamless way to make cooking at home easier for today's busy families."
Initial launch publisher partners include The Daily Meal, a Spanfeller Media Group property, and several other recipe sites and food blogs. Plenishable will be rapidly expanding its publisher distribution.
President and CEO of Spanfeller Media Group Jim Spanfeller says "Much of the growth The Daily Meal has experienced over the past year is because of our constant pursuit of technology that will simplify and enrich the lives of our readers. We're excited to work with a company like Plenishable, who shares that mission."
About Plenishable:
Based in New York City, Plenishable provides an eCommerce infrastructure that links recipe publishing sites with home delivery grocers. With just a few clicks, a home cook can find a recipe, create a shopping list -- complete with the quantities needed for desired number of servings -- and schedule home delivery with their favorite online grocer. Cooking at home is a fast-growing trend as Americans look to eat more healthfully and save money. Hundreds of thousands of recipes can be found online.
About The Daily Meal:
The Daily Meal covers all things food and drink, creating a complete epicurean experience for cooks, food lovers, wine, beer and spirit connoisseurs, discerning diners and everyone in-between. Comprised of original content and video from Award-winning editors, industry insiders, tastemakers and the user community, features range across the site's multiple channels: Cook, Eat/Dine, Drink, Travel, Entertain, Best Recipes, Holidays, Lists and Community. The Daily Meal also produces much-anticipated annual reports including the 50 Most Powerful People in Food, America's Most Successful Chefs, 101 Best Restaurants in America and 150 Best Bars in America. Additionally, The Daily Meal Shop, an online cookware store, offers over 7,000 kitchenware and specialty foods tailored specifically to The Daily Meal's hungry following of savvy food enthusiasts. Helmed by editorial director Colman Andrews, The Daily Meal is one of the largest food sites on the Web and the first property of Spanfeller Media Group, founded by Jim Spanfeller.
For Inquires:
For more information on Plenishable, please email hello(at)plenishable(dot)com. If you're a publisher and would like to learn more about Plenishable's Get the Ingredients button, please contact publishers(at)plenishable(dot)com. If you're a grocery delivery or same day delivery provider and would like to partner with Plenishable, please contact grocers(at)plenishable(dot)com.
###