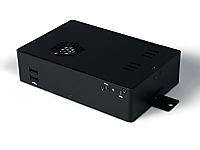 "IT VARs who have had limited exposure to this market, will see value in this solution," said Steve Maser, Senior Vice President Sales and Marketing at Seneca.
Syracuse, NY (PRWEB) June 20, 2013
Seneca®, a leader in manufacturing and integration of purpose built media players and servers, announces three of its players now feature Intel® Retail Client Manager software (Intel RCM) for digital signage. Intel RCM makes it easier to manage content on digital signage, point of sale, video walls, and intelligent vending devices all while providing valuable marketing analytics for retailers.
"Seneca is pleased to be one of the first to support the launch of the Intel Retail Client Manager and we believe their product addresses an underserved market segment that desires simplified, integrated media player solutions. IT VARs who have had limited exposure to this market, will see value in this solution," said Steve Maser, Senior Vice President Sales and Marketing at Seneca.
Intel RCM has robust and flexible features allowing users to develop, distribute and manage digital signage content. Notable features include:

Easy to use resources for controlling the delivery of marketing content in real time
Remote management allows for updating and managing content on the fly
Trigger dynamic, directed messaging when paired with Intel® Audience Impression Metrics Suite (Intel® AIM Suite) conditional playback feature
Manage consumer digital touch points, dedicated channels, and entire media networks at once with Intel® Active Management Technology (Intel® AMT)
Marketing analytics to measure the effectiveness of marketing campaigns using Intel AIM Suite
"The Intel Retail Client Manager software will help system integrators provide much needed one-stop integrated solutions that can help accelerate higher growth in the digital signage market segment," said Jose Avalos, director of Visual Retail at Intel. "By integrating Intel RCM into their media player solutions, Seneca is able to offer a platform for retailers making it easier and faster to deploy digital signage applications."
Integrated Player Solutions with Intel RCM Available at Seneca
Seneca offers three different media players that are certified with the Intel Retail Client Manager software. Platforms are available for a range of digital signage requirements including single or multiple screen playback, Intel AMT or Intel AIM Suite capable, and low and high resolution. The following players are available with Intel RCM:
X4-525: Ideal for campaigns that require a single screen playback with no management or impressions counting
HDN: A commercial version of the Intel® Next Unit of Computing (NUC) that can power duel independent displays with added functionality including serial port, additional USB, internal power and advanced thermal design.
HD2.8: Ability to have quad monitor playback with high resolutions with Intel AMT
For more information on the Intel RCM and player solutions available at Seneca, visit http://www.senecadata.com/products/vendor-partners/intelrcm/intelrcm.aspx.
###
About Seneca:
Seneca is a leading U.S.-based custom computer manufacturer and value added distributor with over 30 years of experience and a trans-national reach. With a partner ecosystem of global leaders in technology, logistics and financial services, a passion for engineering, and a commitment to the total technology lifecycle, Seneca creates solutions that simplify technology for business, education, healthcare, digital signage, digital security and surveillance, digital broadcast, and high performance computing customers around the world.
Seneca. Creating solutions to simplify technology.
Intel is a trademark of Intel Corporation in the United States and other countries.