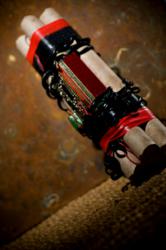 Preparis takes an 'all-hazards' approach to educating businesses on how best to prepare, prevent and recover from critical incident.
Atlanta (PRWEB) June 20, 2013
Preparis, an innovative business continuity and life safety company, is hosting a free interactive webinar, "Responding to Bomb Threats and Explosions", on Thursday, June 27, from 2 to 3 p.m. EST. This session will be hosted by two Preparis' X-Force experts, Bill Hildebrand and Sgt. Steve Veillon, who each have more than 20 years of experience responding to bomb threats, hazardous substances, and deadly explosions.
"Businesses need to take a proactive approach to training and responding to the threat of explosives," Hildebrand said. "The Boston bombing heightened awareness of the possible threats which are unfortunately always out there."
Hildebrand served for 21 years on the Atlanta Police Department protecting the metro area. He's trained in critical infrastructure with the U.S. Department of Homeland Security and the U.S. Department of Justice. In this webinar, he will review what to do in the event of a bomb threat (to a business or building), a suspicious package, or mail potentially containing a deadly substance such as anthrax or ricin.
"All suspicious items are calls for concern and should be taken seriously," Hildebrand explained, "because law enforcement takes these indicators very seriously."
Hildebrand will be joined by acting bomb technician Sgt. Veillon, who will discuss how to put organized plans in place to respond and evacuate your team, plus what to do if the device is detonated causing an explosion.
"I enjoy working in the crisis management field as a bomb technician, but knowing that my real-world experiences are being leveraged to better prepare individuals and businesses to recognize and mitigate potential threats is particularly rewarding," Sgt. Veillon said.
Sgt. Veillon has been with the DeKalb County Police Department in Atlanta for more than 24 years. He has been a SWAT Specialist for 17 years and a Bomb Technician for 11 years, with the last three years assigned to the FBI's Joint Terrorism Task Force Crisis Response Squad in support of the FBI's Special Agent Bomb Technician Program.
"Preparis takes an 'all-hazards' approach to educating businesses on how best to prepare, prevent and recover from critical incidents," Sgt. Veillon explained. "I am honored to contribute to that effort."
About Preparis
Preparis provides leading technology and professional services which drive its clients' business continuity and life safety programs. Preparis delivers the industry's first subscription-based emergency preparedness platform, with a two-way emergency notification system that is simple and easy-to-use in the event of a crisis. The platform also combines expert information, response protocols and employee training, designed to help companies build and maintain a capable crisis response team and recovery teams to streamline communication during a disaster. For more information about Preparis, please visit http://www.preparis.com.