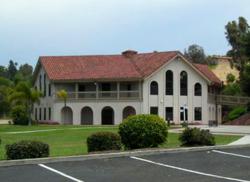 Working with our BGW team and their unique approach to design and construction, the Bonita Valley project has really come together to meet the church's special needs and budget.

-Don Romo, Erickson Hall Construction Co.
Bonita, CA (PRWEB) June 24, 2013
Bonita Valley Community Church will host a groundbreaking ceremony on Sunday, July 14, the day before construction is set to begin on its new worship facility. The start of construction has been greatly anticipated by the congregation since planning began several years ago. The church faced the challenge of launching a building campaign during a huge economic downturn and statewide financial crisis. Getting through layers of red tape for city permits posed another major challenge.
In the church's capital campaign vision video, called "It's Time", Pastor Jeff Brawner recalled the challenges faced by the church early on in the planning stages. "It just seemed like there was a gap between our vision and what we could realistically raise and borrow," Pastor Brawner says. "We continued to look for ways to reduce building costs, but there was still a $1.5 million dollar gap." Then, during an event at the church called the 21-Day Daniel Fast, Pastor Brawner learned about Building God's Way (BGW). After working with a number of different architects, the church was not confident that this budget gap could be closed. However, the church provided BGW with the building plans without letting them know what the shortfall was. BGW came back with an estimated savings of 17% on the project, which amounted to $1.5 million. After much prayer, the church body felt God's direction to move forward with the building project.
One of the obstacles the church faced was installing an off-site water main to provide adequate pressure for the building fire sprinklers. Erickson-Hall Construction Co., the general contractor for the project and the exclusive BGW builder for Southern California, brought in a fire sprinkler specialist that was able to meet with the local fire authorities to review the many code interpretations. This resulted in the elimination of the off-site need, saving the church over $125,000.
The exterior of the new 26,000 square foot building will compliment the surrounding Spanish Mission style buildings and blend well with the Southern California landscape and climate. The new facility will feature a 13,000 square feet worship space with theater-style seating, LED house and stage lighting, state-of-the-art acoustics and built-in baptismal font. A 3,000 sq. ft. performance platform will be complete with dressing rooms, rehearsal center, and a high-tech audio/video recording room. The large lobby and gathering area will feature custom wood and metal finishes, vaulted ceilings and stained concrete floors. This "3rd place" area will encourage social interaction and will be a central access point to the sanctuary, reception kiosk, lounge, restrooms, and outdoor patio area.
About Building God's Way (BGW) - BGW has become a recognized leader in ministry design and construction through its extensive experience in working exclusively with churches, Christian schools and colleges. Since 1998, BGW has worked with more than 600 ministries nationwide and has developed an unparalleled network of kingdom building services that includes church design, church building, church growth coaching, vision casting, capital fundraising, non-profit development, financial solutions, worship technology, mobile solutions and more. For more information, visit http://www.bgwservices.com
About Erickson-Hall Construction Co. - With close to $1 billion in successful construction projects, Erickson-Hall Construction Co. (EH) is a recognized leader with a reputation for delivering on task, on time, and on budget. EH has been servicing Southern California (San Diego, Imperial, Orange and Riverside counties) since 1998, providing a wide range of construction and construction-related services for projects of varying scope, budget, schedule and complexity. EH has an award-winning portfolio of completed projects and has received numerous awards for safety. Erickson-Hall is the exclusive BGW builder for Southern California.