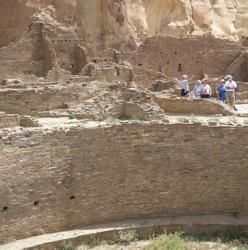 We look forward to some lively discussions with our scholars on this trip. Both are leading Chacoan researchers and Dr. Vivian actually grew up in Chaco Canyon.—Clay Patton, Crow Canyon Director of Cultural Explorations
Cortez, Colo. (PRWEB) June 21, 2013
In an inhospitable environment in what is now northwestern New Mexico, the ancestral Pueblo people (the Anasazi) built an extraordinary system of massive stone buildings, small house sites, outlying communities and roads, all centered on Chaco Canyon. This vast regional network was the focal point of Pueblo culture from the tenth through the mid-twelfth centuries A.D. How did such a technologically sophisticated and socially complex system rise to prominence, and then collapse, so quickly? After more than a century of research, archaeologists still ponder why.
This year, the Crow Canyon Archaeological Center invites the public to join Dr. R. Gwinn Vivian and Dr. Ruth Van Dyke, two archaeologists who perhaps know Chaco the best, for an archaeological tour that looks at this remarkable time in Pueblo Indian history—"The Chaco Phenomenon."
Drs. Vivian and Van Dyke will lead Crow Canyon travelers throughout northwestern New Mexico to explore sites inside and outside of Chaco Culture National Historical Park, as well as sites at Aztec Ruins National Monument and Salmon Ruins. The trip will run September 22–28, 2013, and includes three nights in motels and three nights camping.
To sign up for the trip or to get more information, call 1-800-422-8975, ext. 136 or 160; e-mail travel(at)crowcanyon(dot)org; or visit crowcanyon.org/travel.
About the Crow Canyon Archaeological Center
The not-for-profit Crow Canyon Archaeological Center, located near Cortez, Colo., is celebrating its thirtieth anniversary conducting long-term, multidisciplinary research into the ancestral Pueblo Indians of the southwestern United States; providing experiential education programs for adults, teens, and children; and offering cultural travel programs for lifelong learners.