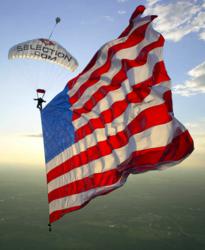 We just love being around fellow aviation enthusiasts where the Wright Brothers started it all.
Dayton, OH (PRWEB) June 20, 2013
On Saturday, June 22nd, and Sunday, June 23rd, 2013, Team Fastrax will be performing several amazing skydives, including an American Flag Skydive, as part of the annual Dayton Airshow. The Vectren Dayton Air Show is an annual event held at the Dayton International Airport in Vandalia, Ohio, eight miles north of Dayton, Ohio.
The gates open at 9am on Saturday, and Team Fastrax will be part of the Opening Ceremony at noon. The first jump will be with their 7,800 sq. ft. flag. Between noon and 1pm of both days, there will be two more jumps involving high speed canopy flying, and canopy relative work, as well as an amazing jump with several American flags and streamers. After their performance each day, the team members will be available at their booth for autographs.
The Vectren Dayton Air Show is an annual family friendly event for all ages. The Vectren Kids' Hangar is a special place that permits children to dig in a huge sandbox, enjoy face painting and crafts, climb on a backyard gym and so much more. The kids will be also be sure to enjoy the School Time Jet-Powered School Bus. The bus runs at speeds topping 350 mph, with 75-foot flames and smoke shooting out of the bus's exhaust. Of course, static planes will be on display for an up-close and personal experience. The event lineup has many other outstanding performances, including the AeroShell Aerobatic Team and even an appearance by UFC Middleweight Champion, Brian "All American" Stann.
Team Fastrax particularly loves to perform at The Dayton Air show. According to John Hart, member of Team Fastrax, "We just love being around fellow aviation enthusiasts where the Wright Brothers started it all. It's an event you will not soon forget. The Dayton Air show is the perfect opportunity to create an annual tradition the whole family will enjoy. "
Team Fastrax is sponsored by Selection.com, a leading provider of criminal background checks and pre-employment screening services. They are the most ambitious professional skydiving team in the world. The team has a roster of more than twenty-nine active members, with a culmination of more than 300,000 skydives. Team Fastrax has performed exhibition skydives all over the world for audiences large and small as a patriotic display or as a product promotion.
For more information and to purchase tickets, visit the Dayton Airshow website at http://www.daytonairshow.com. For questions or for an interview, contact Gene Newsom with Team Fastrax at 513-422-5867.