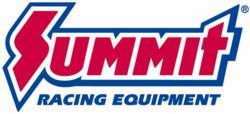 Tallmadge, OH (PRWEB) June 21, 2013
Well known in tuner car circles for quality suspension components, Suspension Techniques also offers handling components for American musclecars.Summit Racing offers a large selection of Suspension Techniques products including:
COIL OVER KITS
These adjustable coilover kits are precision engineered and road tested. The threaded shock bodies allow for customizing the ride height of a vehicle to the maximum, without compromising safety, functionality, or driving performance. Features include: matched damper and spring rates, corrosion resistant zinc threaded strut housing, height adjustable on all four corners, and self-centering dust boot for ensured durability. The kits are available for late model Chrysler, Ford, Audi, BMW, Honda/Acura, and Volkswagen vehicles.
ANTI-SWAY BARS
Keep your car level through every turn with Suspension Techniques sway bars. Durable, solid-steel design reduces body roll when taking corners. The sway bars are powdercoated for an attractive, long-lasting finish. They're available as a complete kit for many popular American and import vehicles. The bars are also available separately for the front and rear.
LOWERING SPRINGS
Get rid of unsightly wheelwell gap, lower the center of gravity, and reduce body roll and weight transfer roll in corners with a set of Suspension Techniques lowering springs. Available for a wide range of applications in multiple lowering options.
SPORT SHOCK KITS
Carve corners in comfort, style, and safety. Suspension Techniques Sport Shocks are designed exclusively for lowered vehicles that feature advanced valve tuning. The shortened or reduced rebound travel optimizes the piston stroke of the shock absorber providing a balanced chassis for a comfortable and safe ride.
Summit Racing also offers Suspension Techniques' Coil Springs and Leaf Springs for classic 1960s and 1970s American musclecars, ST Pro Alignment Kits for proper alignment of lowered vehicles, and Sway Bar Adapter Kits to mount anti-sway bars to vehicles not originally equipped with a factory bar.
PRODUCT LINK
http://www.summitracing.com/search/brand/suspension-techniques?tw=SuspensionTech&sw=Suspension Techniques
Summit Racing Equipment
http://www.SummitRacing.com
1-800-230-3030