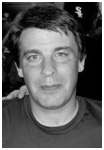 Peoria, IL (PRWEB) June 20, 2013
Advanced Media Partners is pleased to announce that current WXRT staffer, Marc Alghini, has been named Program Director at WWCT-FM starting July 8th. Marc has been an air personality, morning show producer, and social media contributor since his arrival at the iconic 'XRT in 2005. Prior to that, Marc was an Artist Manager for several years. Marc also spent time on the other side of the aisle as National Director of Promotion and Marketing for EMI/Astralwerks after radio gigs in Albany and Boston. In addition to his programming duties, Marc will host mornings on WWCT. Current Program Director, Harry Wareing will remain with the station as a consultant.
Michael Rea, General Manager at Advanced Media, is looking forward to having Marc join the team. "WWCT-FM has been a part of Central Illinois since the late seventies. We are very excited to have Marc join us and begin the next chapter of this great radio station. Marc brings a wealth of knowledge, passion, and creativity to 'CT that will impact the station from his first day; assets that will help grow the station as a whole. Harry has helped create the framework for a great station, and Marc will be the catalyst to take us to a new level of success."
Marc is eager to begin this new challenge. "Seven years ago I returned to my hometown of Chicago. I was extremely grateful and honored to have been given the opportunity to work with Norm Winer and the entire staff of WXRT. They are at the pinnacle of significant, quality radio. When I first met Mike & Scott (Operations Manager, Scott Hecathorn) and their team at WWCT, I recognized instantly that they have the same commitment to great radio and enthusiasm for the Triple A format as I was so fortunate to be a part of at 93XRT. I'm also looking forward to creating a morning show that reflects my passion for music and makes a strong connection to the Central Illinois area. I look forward to working with the team at Advanced Media Partners to continue the growth of WWCT's legacy and to help create a radio station that truly reflects the Spirit of Peoria."
Marc Alghini may be reached at marc(at)wwctfm(dot)com.