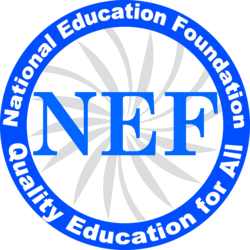 Alexandria, VA (PRWEB) June 20, 2013
Many veterans returning from Afghanistan and Iraq or retiring after successfully completing their service are struggling to transition into civilian life. With challenges such as lack of licensing and credentialing among other factors that impact their and their family's pursuit for economic self-reliance. The Bureau of Labor Statistics reported the unemployment rate for Gulf War II veterans as 9.9% compared to 7.6% nationally. To address the challenges veterans are experiencing, the National Education Foundation (NEF) announces a new initiative to help 100,000 veterans prepare for the 21st century job-market through its certification partnership program with State University of New York (SUNY) (see http://www.nefuniversity.org/veterans).
National Education Foundation (NEF), the national non-profit leader in jobs skills training announced a national program today to provide world-class training to 100,000 veterans, and provide them with certificates from the accredited and prestigious the State University of New York (SUNY). The applicant will receive 24/7 access to top-quality Web-based courses and live teachers at a nominal registration fee. NEF waives the $400- $800 tuition fee. Veterans, who successfully completing the courses, will receive certificates from SUNY, enabling them to receive tuition reimbursement.
NEF offers top-quality 5,500 IT, business and management courses from the very basic to the very advanced. The courses include 60+ industry certifications ranging from Microsoft Office and Web Design to Internet Security and Project Management.
The online learning and live instant mentoring program has been found to be 25% more effective than classroom training.
NEF Chairman Dr. Appu Kuttan stated, "NEF, appreciates the service and commitment of our veterans to our nation. Many of our veterans are currently seeking jobs. To get good jobs, the veterans need good training. Hence, we are launching this national initiative."
About NEF CyberLearning
CyberLearning, a project of the non-profit National Education Foundation, is the national non-profit leader in bridging the digital and academic divides through digital education. CyberLearning provides IT, business, management, digital literacy, STEM (Science, Technology, Engineering, Math), English and test prep education to millions of disadvantaged students and adults.
For additional information please contact Tamara Stephens, Program Director @ 703-823-9999.