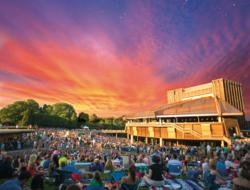 Vienna, VA (PRWEB) June 20, 2013
Los Lobos
Los Lonely Boys
Tuesday, July 9, 2013 at 8 pm
$25-$40
Latin rock legends Los Lobos come to the Filene Center to showcase the energetic, celebratory music that their fans have come to love. The three-time Grammy Award winners broke into mainstream rock with their critically acclaimed album How Will the Wolf Survive? in 1984. The album still resonates with rock fans, as Rolling Stone named it one of the 500 Best Albums of All Time. Los Lobos also covered Ritchie Valens's hits such as "La Bamba," "Donna," and "We Belong Together" for the 1987 La Bamba soundtrack. In 2012 they released two new versions of their 1992 classic records Kiko—a remastered and expanded update to the original as well as a live album recorded at the House of Blues in San Diego.
Video: Los Lobos: Kiko Live – "The Train Don't Stop Here"
Los Lonely Boys—made up of brothers Henry, JoJo, and Ringo Garza—continue the family affair that has brought them success throughout their nearly two-decade careers. The Texican trio released their eponymous debut album in 2003, which received rave reviews and reached double platinum status. The album's top single "Heaven" won the Grammy Award for Best Pop Performance. Their follow-up 2006 album, Sacred, peaked at No. 2 on the Billboard 200. Los Lonely Boys have collaborated with artists like Carlos Santana and Willie Nelson, and 1969, their 2009 album of cover songs, exemplifies their respect for these influential musicians. They released their fourth studio album, Rockpango, in 2011.
Video: Los Lonely Boys – "Heaven" (Live)
She & Him
Special Guest: Camera Obscura
Thursday, July 11, 2013 at 8 pm
$30-$40
Indie sensation She & Him—consisting of actress Zooey Deschanel and M. Ward—bring their summery songs and pastoral singing to their Filene Center debut. The duo released Volume One in 2008, which was named the best album of the year by Paste Magazine. Rolling Stone also named their single "Why Do You Let Me Stay Here?" one of the 100 Best Songs of 2008. Their follow-up, Volume Two (2010), reached No. 1 on three different Billboard charts: Top Independent Albums, Top Modern Rock/Alternative Albums, and Top Rock Albums. After a Christmas album in 2011, the group recently released Volume Three, which debuted at No. 16 on the Billboard 200.
Video: She & Him – "I Could've Been Your Girl"
Scottish indie pop band Camera Obscura is also making its Filene Center debut. After forming in 1996 the band recorded its debut album Biggest Bluest Hi-Fi in 2001 with the help of Belle & Sebastian front man Stuart Murdoch, who served as producer. Their sophomore record Underachievers Please Try Harder (2003) was followed by a United States tour. Camera Obscura's music has been heard in pop culture; in its first season, television show Friday Night Lights used single "Let's Get Out of This Country" from the band's 2006 record. The group's fourth album, My Maudlin Career (2009), reached the top half of the Billboard 200, and their 2013 album, Desire Lines, was called "another installment of brilliant pop" by AllMusic.com.
Video: Camera Obscura – "Do It Again"
Carmina Burana and More
Emil de Cou, conductor
Choral Arts Society of Washington, Scott Tucker, Artistic Director
Wolf Trap Opera Soloists
Mussorgsky's Pictures at an Exhibition
Friday, July 12, 2013 at 8:15 pm
$22-$55
Based on a series of 11th- and 12th-century poems, Carmina Burana was composed by Carl Orff and has continued to delight audiences with its rhythmic lyrics and spellbinding performances. Its most famous piece, "O Fortuna," has been used in everything from movies and television shows to commercials and college graduations. Under the direction of conductor Emil de Cou, the National Symphony Orchestra and soloists from the Wolf Trap Opera Company will be presenting their take on the symphonic masterpiece. The program also includes Pictures at an Exhibition, a piano suite in 10 movements composed by Mussorgsky and orchestrated by Stokowski.
Video Games Live: Bonus Round!
All New Show
Emmanuel Fratianni, conductor
Tommy Tallarico, host/creator
HUGE SCREENS — House and Lawn
Saturday, July 13, 2013 at 8:30 pm
$22-$55
Catering to both gaming lovers and symphony aficionados, Video Games Live: Bonus Round! is a thrilling combination of an orchestra performance and a late-night video game marathon. Created and hosted by industry legend Tommy Tallarico, this tour brings orchestras and choirs from around the world to perform along with synchronized lights, video footage, live action, and interactive segments to bring an experience unlike any other. The music variety includes snippets from games such as Pokémon, Skyrim, Mario, Halo, Civilization, Donkey Kong Country, and more. Pre-show events include a costume contest, game demos, and a Guitar Hero tournament to decide which audience members get a chance to perform with the orchestra during the concert.
Video: Video Games Live | Trailer | PBS
Boz Scaggs
Michael McDonald
Sunday, July 14, 2013 at 8 pm
$25-$42
Boz Scaggs is ready to serenade his audience with his laid-back vocals and jazz standards at the Filene Center. After spending some time with the Steve Miller Band, he embarked on a solo career in 1968. The release of Silk Degrees (1976) put him on the pop/rock map, as the album reached No. 2 on the Billboard 200 and garnered a Grammy Award for Best R&B Song for "Lowdown." His next two albums, Down Two Then Left (1977) and Middle Man (1980) reached platinum status. His latest release—Memphis (2013)—has been described as "gorgeous" by Rolling Stone and is his first batch of new material in more than five years.
Video: Boz Scaggs – "Look What You've Done to Me"
Michael McDonald brings his deep baritone and bluesy soul to the Filene Center. A five-time Grammy winner, McDonald started his career with Steely Dan in the 1970s and then spent five years working with the Doobie Brothers. His solo career began in 1982 with If That's What It Takes, an album that hit No. 6 on the Billboard 200 and included top single "I Keep Forgettin' (Every Time You're Near)." In the early 2000s he released two albums dedicated to Motown hits, and his most recent work, Soul Speak (2008), continued that trend, delivering sleek singing in songs like "Walk on By" and "Enemy Within." The album peaked at No. 12 on the Billboard 200.
Video: Michael McDonald – "I Keep Forgetting"
Tickets can be purchased by calling 1 (877) WOLFTRAP or online at http://www.wolftrap.org. For more information, call Wolf Trap at (703) 255-1868.
High-resolution images of the artists listed are available on Wolf Trap's website: http://www.wolftrap.org/Media_and_Newsroom/Photos_for_Publication.aspx.
Wolf Trap is Metro accessible
Our environmentally friendly Wolf Trap Express Bus travels from the West Falls Church Metro stop every 20 minutes starting two hours prior to show time. For details, please visit http://www.wolftrap.org/Plan_Your_Visit/Access_by_Metro.aspx.