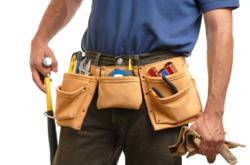 New York, NY (PRWEB) June 20, 2013
Some may believe that being a handyman is not what is generally considered an exciting job. However, individuals who are good at the trade are in high demand and their customers consider the work being done to be of paramount importance. It is a truly talented individual who can take on plumbing, electrical, woodworking, building and repair projects and excel. Having insurance can mean the difference in remaining in a successful business or going bankrupt.
While having a good customer base is essential to earning a living, a small event can cause the business to fold – even a lucrative one. A homeowner can slip and fall as a result of a tool or piece of equipment left in the wrong place. A plumbing fixture can be repaired and another pipe break that had nothing to do with the original repair. However, the carpeting or flooring was ruined and the homeowner is blaming the handyman. They decide to sue. Whether they win or lose, the cost of legal counsel is highly expensive. These are the times when general liability insurance comes into play. A specialized handyman insurance policy can cover legal costs even if the small business owner is found to be blameless for causing damage.
In order to get a business license to be a handyman in certain states, the proprietor must purchase at least a minimum of general liability insurance. Most homeowners who are spending several hundred dollars or more on a project will ask to see a certificate of insurance. Even if they do not request it, when making a presentation to a potential customer the certificate can oftentimes be a selling factor in convincing the client that the handyman is a professional and takes the job seriously. Handyman general liability insurance goes beyond the simple general liability insurance.
Other coverages can be bundled into one policy. Good tools are expensive. Theft, loss or damage can be a real budget breaker. What if the handyman cannot work at all due to a job-related accident or even an illness? Without work there is no income. Some of the handyman insurance policies can include loss of income.
USA Business Insurance continues to bring innovative concepts in general liability insurance for specific niche businesses in the United States. Each state may have specific requirements and these should always be taken into consideration. Those who need handyman general liability insurance are encouraged to learn all the advantages offered to them.
For more information about Handyman General Liability Insurance, go to http://businessinsuranceusa.com/commercial-insurance-handyman.