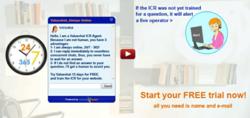 Never Leave Your Website Unattended Again!
Aventura, FL (PRWEB) June 25, 2013
ValueChat is a new efficient Trainable and Live Chat Software. Valuechat can improve online customer support through Interactive Chat Response.
Quality Customer Service is essential in any business. Making clients feel prioritized, guaranteeing positive feedback and good customer relationships provides great customer service. Valuechat is a service that ensures that clients will get the best possible online support. This new concept in chat technology is an efficient and inexpensive way to increase customer satisfaction.
Online Customer Service And Support
Numerous companies have joined the technology bandwagon and put up websites to boost their online presence. This makes them more accessible to customers, regardless of time difference or location. But not all companies can afford to employ customer service representatives to attend client inquiries round the clock. Valuechat is the perfect solution for this dilemma, websites can provide 24/7 online chat support with or without operators. With the use of Interactive Chat Response (ICR), the software reduces the need for live operators since the ICR can be trained to provide customer support without human intervention. Customers will appreciate the instantaneous customer support and retain their interest for a long period of time.
The ICR can be trained to address questions placed by potential customers on a company's website. When a visitor has an inquiry, clicks the "Questions?" banner. The ICR will then start a conversation by greeting and encouraging the guest to ask a question. If the query posted is similar to the ones the ICR was trained to answer, Valuechat will reply with the pre-programmed response. If the correct answer cannot be found, Valuechat will direct the question to a human operator. Unanswered questions are automatically e-mailed to a pre-set address so that follow-ups can be made.
Companies can continue to train Valuechat and teach it to answer the previously unanswered questions until the ICR learns to answer all queries without the need for human intervention.
Other than answering inquiries instantly, The ICR has several other features that will boost business customer service. Chats between site visitors and the ICR are recorded and can be accessed in seconds. This allows businesses to review the interactions and lead guests to the appropriate page in the website.
Valuechat is offering a 15-day free trial that will allow any website owner to experience first-hand the advantages of using an interactive chat response system. Once registered, Valuechat will provide a code to be integrated to the company's website. Within minutes, the ICR can be trained and ready for use.
ABOUT US
Valuechat provides live chat software coupled with a virtual chat that can be trained to respond to all the questions visitors might have when your live reps are not available. If there is ever a question that could not be answered, simply train the ICR to answer the question next time. If the question cannot be answered, the ICR will alert the live rep or send an email so to follow up later. All chat conversations are recorded for review and future training. Unanswered questions are recorded in a special page for ease of identification, training and follow up.