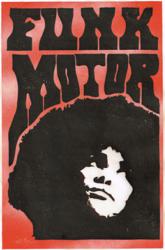 "We want the community involved, the collectors involved and for everyone to have a good time. Our mission is to promote the talent in Houston internationally and offer international talent to Houston". says UP Art Studio owners Elia and Noah Quiles.
Houston, Texas (PRWEB) June 24, 2013
PEVETO is honored to welcome UP Art Studio, Houston's freshest Graffiti and Street Art Gallery, "to wreck shop" at PEVETO! UP Art Studio has invited 21 artists from Houston and internationally to participate in our second annual FUNKMOTOR exhibition during Art Houston 2013. FUNKMOTOR will showcase some of the world's most prolific street artists including 2:12, Daniel Anguilu, Article, Brian Boyter, Burn353, Dual, Empire INS, FURM, Gear, Marco Guerra, JPS, Santiago Paez, Pilot FX, Raiko NIN, Sae MCT, Lee Washington, Wiley Robertson, Jason Seife, Justin West, and w3r3on3.
Artist Reception
Saturday July 13, 2013
6pm to 11pm
the exhibition continues through August 10, 2013
As a natural extension of POP Art, Graffiti and Street Art has been constantly reinventing itself for more than 40 years and only in recent years has it arrived as a mainstream art form that is collected and celebrated openly by museums and collectors. In spite of growing mainstream support, many street artists work under an alias to protect their identities, while others engage the public openly. Street Art is deeply rooted in Graffiti. The difference between the two is often in its acceptance; Street Art having a positive connotation while Graffiti is often thought of as destructive and illegal. Regardless, you can find both forms on buildings, sidewalks, and streets around the world. Street Art is not only an art form but has also become a global culture, as museums, art galleries and auction houses create general acceptance through collecting and selling the art.
The exhibition also introduces the FUNKMOTOR "Pop Up" Shop with the latest urban ware, clothing, jewelry, spray paint, accessories and artist prints from:

Dark Forest
Death Precision, Inc.
Will Fry
Will Shotz
Montana Gold, Black and White supplied by Overspray Art Supplies
FUNKMOTOR Print Portfolios
PEVETO, A Fine Art Resource Management Company, is a multi-disciplined organization offering assistance in art acquisition, art advisory services, and art collection management to individuals and corporations as well as representing a select group of Texas Contemporary, national and international artists.
UP Art Studio, which currently operates out of a donated space, is a gathering place for established, new, and upcoming urban and contemporary artists that need a place to showcase their artistic talent and skills. Once a month, UP Art Studio curates a gallery show and has prolific local Houston, regional, and national graffiti, street artists, and muralists painting the studio's exterior and interior walls for every show.