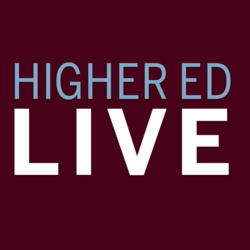 Chicago, IL (PRWEB) June 21, 2013
Leading higher education marketing firm mStoner announces the launch of the new Advancement Live channel on the Higher Ed Live network. The first Advancement Live episode airs on Tuesday, July 16, at 1:00 p.m. EDT at http://higheredlive.com/live; shows will air weekly on Tuesdays.
Advancement experts Andrew Gossen of Cornell University and Ryan Catherwood of the University of Virginia will host the new channel. Gossen and Catherwood are recognized thought leaders in the field of advancement with expertise in alumni engagement, fundraising, and development. They'll provide their own insights into the challenges that confront today's advancement professionals and interview practitioners, thought leaders, and others who can provide unique perspectives on these issues and trends in today's ever-changing advancement field.
Advancement Live will be sponsored by iModules, the leading constituent engagement management provider for education institutions. Their interconnected suite of modules transforms how institutions create relevant constituent experiences and achieve fundraising success through web content management, marketing communications, online giving, event management and ecommerce, and social media integration.
Higher Ed Live
Higher Ed Live is a network of live weekly web shows about higher education. Programming focuses on the role of digital media in higher education, admissions, advancement, and student affairs. Broadcasting live every Tuesday, Wednesday, and Thursday, each week's episodes feature exclusive interviews with professionals from colleges and universities across the country; journalists; consultants; and other thought leaders. Higher Ed Live offers viewers direct access to some of the best and brightest minds in higher education and allows them to share their knowledge and participate in discussions around the most important issues in their field.
Andrew is the senior director for social media strategy in the division of alumni affairs and development at Cornell University. He joined Cornell in early 2010 to spearhead the integration of social media and mobile technology into the division's strategic plan. Previously, Andrew spent eight years at the Alumni Association of Princeton University in a number of diverse roles. He also has served the Council for Advancement and Support of Education (CASE) on the commission on alumni relations, co-chaired the CASE joint commission task force on social media, and chaired the 2011 CASE Social Media & Community conference. Andrew holds a bachelor's degree from Princeton University and a doctorate in social anthropology from Harvard University.
Ryan is the director of engagement strategy in the office of engagement at the University of Virginia. He leads a team that spearheads many alumni engagement initiatives, including the University of Virginia Global Network, Lifetime Learning, and Cavalier Travels. Ryan also works with the office of engagement's partners in the University of Virginia Alumni Association, development, and cross grounds to improve campus-wide social media efforts. Prior to University of Virginia, Ryan was the assistant director of digital communications and social media at Washington and Lee University and director of marketing & communication at Fishburne Military School. Ryan graduated from the University of Richmond with a B.A. in rhetoric and communication studies ('03) and received a Graduate Diploma in business administration from the University of Queensland, Australia. He lives in Charlottesville, Virginia with his wife and young son.
mStoner, Inc. is a marketing communications agency focusing on higher education web strategy and development. Since 2001, mStoner has worked with more than 250 education institutions and launched more than 175 CMS-driven sites for colleges and universities around the world. The firm provides services including digital strategy, user interface design, technology, and project management and is at the forefront of responsive web design in higher education. mStoner also leads projects on content strategy, social media strategy, search engine optimization, and social media monitoring. In February 2013, mStoner published Social Works: How #HigherEd Uses #SocialMedia to Raise Money, Build Awareness, Recruit Students, and Get Results -- the first guide to successful social media campaigns in higher education. Social Works contains 25 case studies written by some of the leading experts and rising stars in higher education. mStoner also oversees EDUniverse Media, which includes EDUniverse.org and HigherEdLive.com, as free resources for professionals in education. For more details about mStoner, visit the company online and read the mStoner blog.