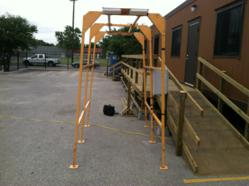 Reston, VA (PRWEB) June 20, 2013
ADR Software, LLC, an innovative provider of automated workforce monitoring and daily reporting to construction companies, announced today the commencement of monitoring at the first of six San Antonio schools over the course of the next two years. This marks the fourth job site to come online in Texas in the past six months.
Turner Construction selected ADR to provide real-time workforce monitoring on the Thomas Jefferson School. The initial school project will be monitored for a period of fifteen to twenty months based on projected construction completion.
"We are excited about this opportunity to build relationships with more of Turner's offices," said Marty Pollak, President of ADR Software, LLC. "In addition to the San Antonio office, we are working with Turner in Washington, DC, Baltimore, Philadelphia, New York, Boston, Northern Virginia, Denver, and Dallas-Ft. Worth. We look forward to providing automated, real-time analysis and documentation of the school projects as they come online over the next two years."
Workforce Monitor is a service of ADR Software, LLC. General contractors, owners, project managers and sub-contractors use the service for any number of reasons including: to enable real-time workforce decision making, to create accurate and timely project workforce documentation, to meet contractual security obligations, to improve safety awareness and response readiness and to reduce exposure to financial risk.
Workforce Monitor utilizes RFID tags, embedded in all-weather job stickers affixed to hard hats and ID badges, to monitor workforce activity throughout the day without delays, interruptions or intrusions. Workforce Monitor is currently monitoring over 30,000 workers at construction sites throughout the United States.