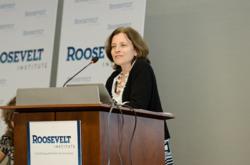 If we limited ourselves to what Congress might do, we'd have little to talk about. -Jeff Madrick
New York, NY (PRWEB) June 21, 2013
In 1932, FDR famously summed up his plan to rebuild the U.S. economy in two words: "try something." Many in Washington seem to have forgotten that message, as long-term unemployment and low-quality jobs continue to plague American workers years after the end of the Great Recession. That's why the Roosevelt Institute's Rediscovering Government initiative brought together thinkers as diverse as Senator Tom Harkin, labor activist Ai-jen Poo, economist Dean Baker, and Federal Reserve Governor Sarah Bloom Raskin for a Bold Approach to the Jobs Emergency, a daylong conference on June 4th to discuss how we can create more and better jobs in the U.S.
Roosevelt Institute Senior Fellow and Director of the Rediscovering Government initiative Jeff Madrick has noted that "Some insist we should talk mostly about what is politically practical. If we limited ourselves to what Congress might do, we'd have little to talk about." The diverse line-up of speakers proved that there are plenty of potential solutions available – if there is the political will and courage to try them.
The conference had a deep focus on policy, beginning with Senator Harkin's call to end the filibuster, but it also examined the human toll of the jobs emergency. Governor Raskin made headlines with an account of her trip to a local job fair where she was shocked by the poor quality of jobs available, which Reuters' Pedro da Costa called "an unusually personal look at [her] dismay with the country's economic situation." Rep. Jan Schakowsky underlined the importance of these issues in her keynote address, calling the response to the jobs emergency "a battle for the heart and soul of our country."
Video of the entire conference is now available online, along with highlights from the day's discussions. We will soon publish the full proceedings at rediscoveringgovernment.org.
---
To request more information about the Roosevelt Institute's ongoing work on the jobs emergency or to arrange an interview with Jeff Madrick or one of the conference participants, please contact Tim Price at 212-493-3323 or tprice(at)rooseveltinstitute(dot)org.
---
About the Roosevelt Institute
The Roosevelt Institute is a nonprofit ideas and leadership organization dedicated to carrying forward the legacy and values of Franklin and Eleanor Roosevelt by developing progressive initiatives and bold leadership in the service of restoring America's promise of opportunity for all. The Institute works with world-class thought leaders in our Four Freedoms Center; the Campus Network and Pipeline programs work with thousands of Millennials to drive policy solutions at the local level; and the FDR Library maintains the Roosevelts' legacy to redress inequality in our nation. Our major thought work is developing a "New Deal for the 21st Century" by focusing on economic and social policy.
###