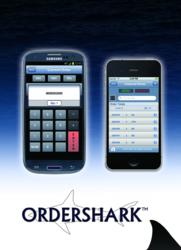 We will save $500,000 by implementing OrderShark.
Chicago, IL (PRWEB) June 20, 2013
Mobility technology developer Ai2 today announced that a free version of OrderShark, a retail sales order entry solution for smartphones, is now available for download from Apple's App Store.
The app is designed for order entry through the scanning of UPC bar codes, the entry of item numbers from a distributor's catalog and the transmission of orders from a retail environment to a wholesale distributor.
Retailers in food, convenience, grocery, spirits, hardware, pet supply, jewelry and other industry segments place orders monthly, weekly, or several times per week from a wholesale distributor. Ai2 developed OrderShark in response to the proliferation of smartphones running iOS and Android that have become ubiquitous in the marketplace.
By letting a retailer use their personal smartphone to order, distributors save themselves the expense and hassle of purchasing and supporting older technology (unreliable) or newer handheld mobile computers (expensive initial investment, ongoing costs).
"We want to help distributors make it easy to place fast, accurate, safe orders with them," said Douglas Katich, CEO for Ai2. "When a retailer is using their own smartphone, they've already got a device that they like, so why not help them save time and money by helping them run their store?" Katich also mentioned that an Android version of OrderShark will be released soon.
OrderShark is a BYOD application for order entry automation and bar code scanning in a retail environment. Using the smartphone's camera, OrderShark scans any barcode type from any angle using fast proprietary scanning technology that Ai2 developed.
The app reads all existing UPC types as fast as a Telxon as well as QR codes. OrderShark handles all existing Telxon symbologies for distributors who use Telxons. Users can email, view, edit, store and copy previous orders.
The OrderShark system provides the status of all orders including confirmation that the distributor's host received the order. Orders are logged in the device for safekeeping and easy access. Orders are sent over WiFi or cellular networks. OrderShark supports international language sets for multilingual use.
Wholesale distribution leaders in convenience and grocery such as Pine State Trading, City Wholesale Grocery and Harold Levinson Associates are in the process of implementing OrderShark with Pine State mentioning that they expect to save $500,000.00 by implementing the app.
Katich encouraged distributors and retailers to download the app to get familiar with it, then to contact Ai2 to upgrade to the enterprise version. The enterprise version contains additional features and works in a real environment to help retailers place orders from their distributors.
Ai2 was founded in 1986 and is headquartered in downtown Chicago. Their applications are used by more than 75,000 users each day to capture upwards of $75 billion in annual sales. More than 10,000 retail stores and more than 1,000 movie theaters use Ai2 solutions for their order entry needs. Ai2 improves the sales process for some of the world's largest distributors in foodservice, convenience store, grocery, wine and spirits, beer, hardware, medical, beauty products, jewelry and more. For more information about Ai2, visit Ai2.com.