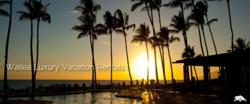 Kaanapali, HI (PRWEB) June 19, 2013
Harris Hawaii Realtor Group has opened a new office located at The Wailea Town Center providing vacation rental management services, as well as full service real estate brokerage. Ken Harris, a licensed Hawaii Realtor since 1986, formed the Harris Hawaii Realty Group in 2008 and is the principal broker.
Harris Hawaii offers luxury vacation rentals in Wailea. Considered south Maui, the Wailea resort area offers spectacular scenery, pristine beaches, world class golf, and of course excellent dining options. Our Wailea luxury vacation rentals are upscale and well maintained. Wailea luxury vacation rentals have a sense of privacy and serenity which makes Wailea a popular visitor destination. If you are looking for beach activities, diving, snorkeling, boating or just laying on the sand, the Wailea coastline can't be beat. Looking for something to take home, the Shops at Wailea offer some of the best shops on the island.
With our new location so close to the Wailea beach front, accessibility to our Wailea locations is easier than ever. One of our six sales representatives will help to ensure you have the vacation of a lifetime at one of our many Wailea locations.
"Harris Hawaii is the Best! We stayed at the Honua Kai, which was excellent. Brooke Moor was Awesome! He called me when we got off the plane, and was waiting for us at the resort. He helped speed up the check-in and gave us a tour of the facility. We also saw him multiple times around the resort, and each time he stopped and talked to us about our experiences. I would rent through him every time I come back to Maui." -Tim P. (satisfied customer)
With over 50 years of real estate experience between our Harris Hawaii realtor sales representatives we guarantee you're satisfaction and a memory that lasts a lifetime.
About Harris Realty Group
Harris Hawaii Realty Group is a full-service real estate brokerage service licensed in the State of Hawaii specializing in all aspects of Maui property management.
Please visit our website for more information click here.
If you'd like more information about this topic, or to schedule an interview with Ken Harris, please call us at 808-667-5800 or e-mail at info(at)harrishawaii(dot)com.