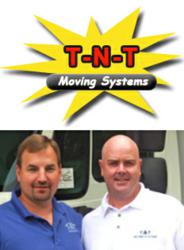 Charlotte, North Carolina (PRWEB) June 25, 2013
Owners Tom Tulowiecki and Todd Koepke of T-N-T Moving Systems are proactively seeking to educate consumers to help reduce the number of moving scam victims and actively improve the reputation of the moving business - for their sake and to protect the public.
"We're the good guys," says Koepke, adding, "Part of our job is to inform the public about our industry and that includes helping them avoid potential scams." Tulowiecki and Koepke pride themselves on relationship building. "The moving business is all about building relationships. We do that by building trust."
T-N-T is ramping up their efforts to keep their customer base informed on the heels of a recent extortion scandal in Louisiana. This week the New Orleans based Fox Network affiliate, Fox8 WVUE, reported on an extortion scheme that was devised by a local moving company, operating under the name, "Mr. Move." The company's based is in Metairie, Louisiana. The owner, 45-year-old Dunwoodie McDuffie, according to the Mandeville, Louisiana Police Department, was charged with extortion an unauthorized use of a movable.
McDuffie, according to a victim, quoted a low price for moving services, collected property and then demanded a largely inflated price to return the victim's personal belongings. According to police documents McDuffie provided a quote of $700 and then demanded $2000 with no justification after the property was secured on the moving truck.
"This is scary stuff," says Koepke. "It gives our industry a bad name. Unfortunately, every industry and business can fall prey to unscrupulous people."
Koepke and Tulowiecki are making it their business to help keep clients and prospective clients aware of potential scams. "It is critical - absolutely critical - that consumers check out movers and make sure the company is legitimate before personal property is secured."
Koepke advises customers to make sure the movers are insured. T-N-T's business operates largely on a referral basis. Get at least one referral, more if time and opportunity allows. Make sure someone else has had a good experience with the movers selected - preferably someone you know.
Allowing strangers access to personal belongings can be unnerving, to say the least. Working with someone that is experienced, trustworthy and insured is not just a plus - it's a must.
"Scam artists do damage to the rest of us," says Koepke, "Keeping consumers informed and preventing scams helps our customers and it helps us too."
T-N-T Moving Systems has a full-service, Charlotte-based moving company that provides local and long-distance moving services. No job is too big. No job is too small. If you're in the market for an honest, dependable moving company look no further. Call T-N-T today at 704-523-1455 or visit their website at http://www.tntmovingsystems.com.