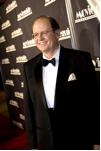 It is not in any way economically hard to produce great, quality films with upstanding faith-filled messages. -Dr. Ted Baehr
Los Angeles, CA (PRWEB) June 20, 2013
Dr. Ted Baehr, founder and CEO of Movieguide®, will speak at Variety's "PURPOSE -- Family Entertainment & Faith-Based Summit" June 21 at the Four Seasons hotel in Beverly Hills.
The Movieguide®-sponsored summit features many prominent studio and network executives who are successfully creating family & faith entertainment. Dr. Ted Baehr will be speaking on the "Movieguide Annual Report to the Entertainment Industry," which outlines how family-centric media can be economically beneficial. Other influencers include Mark Burnett and Roma Downey, Simon Swart of 20th Century Fox, Rich Peluso of Sony/Affirm, Randy Pope for Hallmark, and more.
Dr. Baehr's talk, entitled "How to Succeed in Faith-Based Films Without Losing Your Wallet," is slated for 2:50 pm.
"Year after year, our careful research and analysis of box office trends around the world shows that movies with faith & family values do increasingly better overall," Dr. Baehr points out. "It is not in any way economically hard to produce great, quality films with upstanding faith-filled messages."
As a liaison between the movie and television industry, and the religious community, Dr. Baehr is continually called to speak around the world regarding the intersection of faith and culture. His former roles as head of the TV department at CUNY and Chair of Cal Berkley's Media Institute have caused him to rise as an expert on media's impact on families and children.
The "Purpose" summit is intended to be an arena in which studio leaders, brands, and storytellers can discuss and share ideas about how best to create faith and family-based entertainment. Other sponsors of the event include The History Channel and Sony's Affirm Films.
Movieguide® hosts the Annual Movieguide Awards Gala each February, now in its 22nd year, to honor films which display faith and family values. This event is attended by many film industry leaders like Swart and Peluso, and this year honored Marvel's The Avengers, Les Miserables, and Ice Age: Continental Drift as its top films for 2012.
For more information on the Movieguide Awards, see http://www.movieguideawards.com.
For more information on the PURPOSE conference, see http://variety.com/conference/purpose2013/.