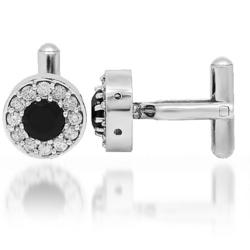 New York, NY (PRWEB) June 20, 2013
Historically, the lexicon of men's jewelry has been limited to a handful of simple and traditional pieces; a wristwatch, a wedding band, a class ring, and perhaps a religious pendant. Rarely were these items worn to seek attention. In fact, these pieces were very personal gestures of functionality, commitment, pride, and faith respectively. A rare combination of sophistication, function, and affluence, Diamond Cufflinks are the only other distinctly masculine tradition in fine diamond jewelry.
Designed and fashioned in a time before buttons were sown onto the cuffs of shirtsleeves, cufflinks do exactly as their name suggests; they link and fasten the cuffs on shirtsleeves. Over time, cufflinks have evolved from simple string knots into intricate pieces worn by French nobility. Modern iterations are a refined amalgam of the two; they're as simple as a piece of string yet still as regal and elegant as those in the king's personal collection.
Cufflinks impart a bit of the wearer's personality to otherwise straightforward ensembles. An important part of any jeweler's gallery, the master craftsmen at Avianne & Co. have developed an expansive collection of Designer Cufflinks over the past two decades. From their flagship store in the heart of New York City's famed Diamond District, the team at Avianne & Co. has had the opportunity to work with artists, entertainers, and athletes worldwide.
Among their most celebrated new additions are the Black Diamond Halo Cufflinks, an exquisite set of handcrafted 14K white gold frames at the center of which are two prong-set black diamonds framed by two dozen smaller white prong-set diamonds. Available in white, yellow, and rose gold or in the dynamic black rhodium plating, these exclusive cufflinks offer an unmatched level of brilliance. Specially priced at $3148.00, the Black Diamond Halo Cufflinks are an exciting new addition to the gallery Gold Cufflinks designed by Avianne & Co.