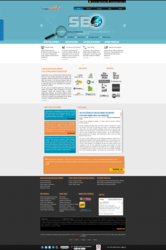 Simplicity, consistency, and creativity are the three ingredients to creating a successful website
Raleigh, NC (PRWEB) June 20, 2013
Being a Raleigh web design company is not easy whatsoever. The web agency market is extremely competitive in North Carolina due to the amount of web development firms that exist. In order to be at the forefront of the competition and have an opportunity to be a market leader, Imaginovation decided months ago it was time for a website facelift. A web design company's website is a direct reflection of what they can offer their customers. Due to a large amount of market research and analysis, they found ways to make their website not only display a creative but professional look and feel, but also developed to be extremely SEO friendly for the search engines as well. In addition, it has been programmed to be fully responsive, meaning it is catered to all web and mobile browsers. This is a huge plus in overtaking the competition, not many companies do this with their website.
The new website facelift demonstrates an exclusive personality and identity of the brand, which differentiates them from the competition. This brand personality portrays that the Imaginovation Raleigh website design team is compiled of "Geeks" (developers and programmers) and "Cool People" (marketers and designers). This identity tells their potential customers that they are unique in the sense that the websites and software developed by Imaginovation are comprised of marketing and design strategy as well as experienced programming. Furthermore, the website revamp shows everyone that they have the best of both worlds while developing various web and software products.
Getting into the nitty gritty of the overall typography and layout of the new website, Imaginovation chose the colors light blue/turquoise and orange to offer a side of corporate professionalism/innovation and another side of creativity to the site, while also choosing a sans serif font. They used these colors and this font not only for the home page, but throughout the site to remain consistent. Regarding the layout, they displayed the content and high quality imagery in a non-cluttered, and very simple and constant manner so it's appealing to the eye and easy to read. Simplicity, consistency, and creativity are the three ingredients to creating a successful website according to research.
The new website will be launching soon. Visit http://www.imaginovation.net to learn how they are an authority in responsive web design or just in need of an online boost or capability.