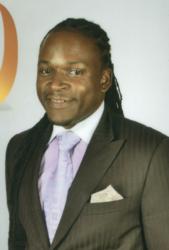 We're thrilled to have Donte join our team. He has a remarkable resume, fresh ideas and tremendous experience in boutique hotels. - HHM Executive Vice President of Operations Greg Ade
Philadelphia (PRWEB) June 20, 2013
HHM, an industry leading hospitality management company from coast to coast, recently announced the hiring of Donte Johnson as general manager of Capitol Hill Hotel, a newly renovated boutique hotel, located just two blocks from the U.S. Capitol Building in the Capitol Hill historic district.
Johnson joins HHM from Kimpton Hotel & Restaurant Group, LLC, where he worked for more than 11 years, most recently as the General Manager at Topaz Hotel. Johnson, who has a bachelor's in Communications from St. Peter's College, began his career in the hotel business at the front desk and rose through the ranks holding various positions in the front office, revenue management and was an Assistant General Manager before being promoted in 2008 to the position of General Manager. Johnson was 29 at the time; the youngest person that Kimpton had ever promoted into that position.
"We're thrilled to have Donte join our team. He has a remarkable resume, fresh ideas and tremendous experience in boutique hotels," said HHM Executive Vice President of Operations Greg Ade. "Capitol Hill Hotel has already undergone such a tremendous transformation. Donte has what it takes to get the hotel to the next level."
Johnson, a native Washingtonian, brings impressive achievements to the position. In 2011, Johnson was recognized in the Washington Business Journal, when he appeared in their "40 Under 40" list. He is very involved in the community, participating in the mentorship program and the advisory board at Hospitality High School. He is an active member of the HAWDC Community Service Committee and the Business Advisory Council of the HOPE Program.
Capitol Hill Hotel is a 152-room boutique hotel, purchased by Hersha Hospitality Trust (NYSE: HT) in March 2011. The hotel completed a multi-million dollar renovation in May 2012, which included a complete renovation of their public spaces as well as an enhancement and addition of meeting and event spaces, equipped with modern technology and featuring natural light. The hotel is a member of the Independent Collection, a growing collection of boutique hotels in gateway markets. The hotels of the Independent Collection celebrate their neighborhoods and invite guests to experience the true spirit of the city.
"This hotel has a modern and stylish new look and an enviable location in the center of government, near the National Mall and amidst great restaurants and shops," said Johnson. "I have really enjoyed getting to know the Capitol Hill neighborhood and look forward to continuing to foster our relationship with the community."
Over the last few months, the hotel has begun hosting manager receptions for guests on Monday - Thursday evenings featuring wines from around the world. A pet-friendly program called "Hounds on the Hill," which provides dog beds, bowls and treats to dogs visiting the hotel, has been expanded upon and the hotel has hosted a series of art openings to celebrate its partnership with local arts organization Capitol Hill Arts League, which has added modern art to the hotel walls on a rotating basis. Donte is a major supporter of these initiatives and is looking to drive new programs in the months to come.
What's next?
"Well, I can't tell you that right now," said Johnson, "but keep an eye out for us."
About Capitol Hill Hotel:
Capitol Hill Hotel is a boutique hotel located in the heart of the Capitol Hill historic district, one of the most prestigious neighborhoods in the capital, and just footsteps from the capital's most famous landmarks, including the National Mall. Capitol Hill Hotel welcomes both short and extended stay travelers and the property encompasses 152 all-suite guestrooms which all feature a kitchenette or kitchen. Drawing inspiration from its beloved neighborhood, the Capitol Hill Hotel design incorporates modern décor with local aesthetics – paying homage to the vibrant and culturally eclectic city in which it resides. Adjacent to the hotel are renowned local restaurants and boutique shopping alternatives. Travel a few steps further and be amongst world leaders and moved by historic landmarks.
About The Independent Collection:
The Independent Collection is a growing collection of smaller, more intimate boutique lifestyle hotels located in truly unique neighborhoods of gateway cities across the US. The collection is founded on the principles of authenticity, leadership, generosity, and modesty. Hotels of the Independent Collection are created for the independently minded traveler.
About HHM:
HHM, formerly known as Hersha Hospitality Management, operates 115 hotels across the United States. It provides turnkey hotel management, asset management and receivership for properties with leading brand affiliations through Marriott, Hilton, Hyatt, Starwood, and Intercontinental Hotel Group. HHM also operates 14 independent hotels ranging from the AAA Five Diamond Rittenhouse Hotel in Philadelphia, to the oceanfront Postcard Inn in the Florida Keys. Its highly experienced team is accustomed to serving as a fiduciary to publicly traded companies, joint ventures, institutional real estate owners and private investors. Additional information on HHM can be found at hhmhospitality.com.
For further information, please contact Capitol Hill Hotel at 202-543-6000, http: http://www.capitolhillhotel-dc.com/. For further press inquiries, contact: Mary Gollhofer at 267-238-5025, mary.gollhofer at hhmlp.com.