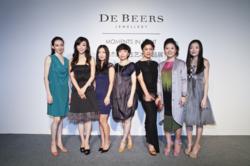 "We are proud to support and collaborate with these specially selected talented women and to showcase their special moments in light."
New York, NY (PRWEB) June 20, 2013
Shanghai - De Beers, The Jeweller of Light, celebrates talented women through the unveiling of its "Moments in Light" exhibition on June 18th. De Beers invited esteemed Chinese artists Cui Xiuwen, Liang Yuanwei, Han Yajuan and Peng Wei, to express the "Moments in Light" of their own lives through their artworks that will be displayed at Sinan Mansion, Shanghai from 19th to 23rd June. Xiang Jing a renowned sculptor and photographer, captured each of these women in unique photos that bring to life the personalities of the artists, which are also on display at the exhibition curated by Liu Chunfeng.
During the opening of the exhibition, distinguished actress Zhang Jingchu showcased a teaser of the first film she has both written and directed as well as performed in: a short film created for De Beers to illuminate her "Moments in Light". The film will see its official release in September. Zhang Jingchu explaining the inspiration behind her film commented: "The film illuminates a dream-like world where joy bursts from the bottom of our hearts, delivering the most brilliant moments in life. Emotive words and promises make moments such as these as eternally beautiful as diamonds."
A splendid, delicate ballet composed for the exhibition by Cao Shuci, an award-winning ballerina from the National Ballet of China, was performed at the opening ceremony, captivating the guests with an artistic world of fantasy and awakening the memory of the most cherished moments in the lives of every woman.
François Delage, CEO of De Beers Diamonds Jewellers, commented, "We are proud to support and collaborate with these specially selected talented women and to showcase their special moments in light. It is an honour for us to celebrate their talent through this exhibition. We all have memories of special moments that have marked the greatest emotions of our lives. In celebration of these moments in light, we have joined hands with some of China's most talented women to create works of art that come from truly unique emotions."
Through this exhibition, De Beers will begin its journey to support and collaborate with talented women around the world revealing their brilliant moments.
ABOUT THE ARTIST
ZHANG JINGCHU
Renowned actress, Zhang Jingchu came to international prominence through director Gu Changwei's debut film Peacock, which won the Silver Bear at the 2005 Berlin International Film Festival. Zhang went on to star in a number of well-received films, including Tsui Hark's Seven Swords (2005), Derek Yee's Protégé (2007), Brett Ratner's Rush Hour 3 (2007), Florian Gallenberger's John Rabe (2008) and Ann Hui's Night and Fog (2009).
XIANG JING
Born in Beijing, Xiang Jing excels at integrating rich emotions into sculptural works with her sensitive pianist-like fingers that create a new sculpting concept that upholds realism while adding an impressionist flavour. Xiang Jing is also a talented photographer and De Beers invited Xiang Jing to capture each artists 'Moment in Light' through unique photography.
Originally from Harbin, China, Cui Xiuwen started as an oil painting artist focusing on women and their reality. More recently, her works include videos and photography. Her art has been displayed around the world and she has been awarded many prizes such as the 2008 'Xiao Shufang Art Foundation Award for Outstanding Women'. She is also the author of the book Private Space.
Born in 1977 in Xi'an, China, Liang Yuanwei obtained a Masters degree from China's Central Academy of Fine Arts. Her works are characterised by a clear sense of music and poetry that contain a critique of reality. Her art has been exhibited all over China and around the world in cities such as New York, Madrid, Venice and Milan. She is one of China's most celebrated female artists.
Born in 1980 in Nanjing, Han Yajuan belongs to the new Chinese painting movement. She continually references contemporary pop culture through her art, utilizing a simple, direct style that portrays the light-hearted themes of young people's imagination through cartoons. She currently lives in Beijing and her work has been exhibited around China and abroad.
Peng Wei's works are widely deemed to be "private paintings" in the mind of females as the objects that appear in her paintings are mostly female belongings such as shoes, garments and accessories. The first glance at Peng's work sets off a journey into our own private world, which delicately transforms the traditional techniques of Chinese art into something new and contemporary.
Born in 1989 in Liaoning, China, Cao Shuci graduated from the Secondary School of the Beijing Dance Academy and joined The National Ballet of China in 2006. In 2010, she participated at the 9th American International Ballet Competition, one of the four most important ballet competitions over the world where she won 3 awards and became a star on the international stage. She has performed in the UK, France, Holland, Germany, Brazil, Russia, America and Hong Kong.
NOTES TO EDITORS
THE DE BEERS DIFFERENCE
De Beers, the Jeweller of Light, creates timeless treasures that reveal and celebrate the wondrous brilliance of women and diamonds. As the definitive destination for diamond jewellery, we have a quest for inner beauty, bringing lightness, femininity and delicacy to our sublime diamond jewellery.
Drawing on diamond mastery since 1888, De Beers hand-select each diamond for its unique beauty to capture unmatched Fire, Life, and Brilliance. Each unique De Beers creation is the culmination of wondrous artistry and the true beauty of the finest diamonds.
De Beers is proud to be the only brand to demonstrate the beauty of its diamonds, using the De Beers Iris. This proprietary technology, found in each De Beers store provides clients with an objective way to see the beauty of their diamond through the eyes of an expert.
THE DE BEERS GUARANTEE
Each piece of De Beers jewellery is certified with a De Beers passport and each polished diamond above 0.20 carats is microscopically branded with the De Beers Marque. The De Beers Passport documents the specifications of your diamond jewellery and is your guarantee that every single De Beers diamond is natural, untreated, conflict-free and responsibly sourced and crafted. The De Beers Marque, using technology patented by the De Beers Group, is invisible to the naked eye and ensures that each diamond is individually catalogued in the De Beers diamond registry, confirming its identity as a De Beers official diamond, to provide clients with a total peace of mind.
DE BEERS DIAMOND JEWELLERS
De Beers Diamond Jewellers was established in 2001 as an independently managed and operated company by LVMH Moët Hennessy Louis Vuitton, the world's leading luxury products group, and De Beers SA, the world's premier diamond mining and marketing company.
De Beers has five stores in China in Beijing, Shanghai, Dalian, Tianjin and Nanjing and is looking forward to opening a new store in Shanghai this autumn at the new luxury shopping destination: IAPM.