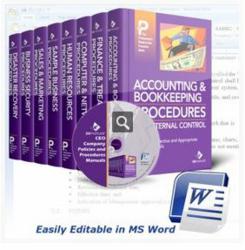 If there is one thing we know about laws and regulations, they always increase and rarely ever decrease
(PRWEB) June 21, 2013
Bizmanualz, Inc., a business process management and lean ISO consulting company, announces Company Management Policies And Procedures Manuals that provide key business departments (Accounting, Finance, Sales & Marketing, Human Resources, Quality Management, Computer and IT, Security Planning and Disaster Recovery) with example standard operating procedures (SOP) for faster conformance with industry standards, laws, or regulations.
The complexity of starting and managing a business in accordance with industry standards, laws, or regulations, drives the need for management procedures or SOPs. The original intent of the Sarbanes-Oxley legislation was for all public companies to comply with requirements for internal controls over financial reporting. In addition, industry standards like ISO 9001 for Quality, JCAHO in health care, or ITIL in information technology all require management procedures.
"If there is one thing we know about laws and regulations, they always increase and rarely ever decrease" explains Chris Anderson, Bizmanualz, Inc. Managing Director. "Policies and procedures themselves do not demonstrate compliance. Only well-defined business processes coupled with business process records demonstrate an effective internal control system that conforms to laws, regulations and industry standards."
A company is made up of more than a single topic or department. Business management policies and procedures are used by accounting and finance (to control cash), human resources (to comply with federal and state regulations), information technology (to secure data), disaster recovery (to plan for emergencies), disaster security (to protect your assets), sales and marketing (to deploy your strategy), and quality (to meet customer requirements). Bizmanualz is the only company that provides department management policies and procedures manuals in one integrated library.
Using procedure templates from accounting, finance, human resources, information technology, ISO Quality or sales & marketing, saves time. Each of the Bizmanualz policy and procedure templates are in easily editable Microsoft Word format that can be instantly download for immediate customization. Sample procedures are available for download to see the format, content and writing style of the procedure templates.
Bizmanualz has been at the forefront of delivering lean ISO Quality Management Systems and business process improvement services to help business owners achieve the growth and expansion they foresee. Bizmanualz policies and procedures are available by calling 800-466-9953 (outside the U.S. call 314-863-5079); faxing 314-863-6571; e-mailing sales(at)Bizmanualz(dot)com; or logging on to http://www.Bizmanualz.com. Bizmanualz® is a registered trademark of Bizmanualz, Inc.