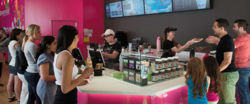 Montreal, Canada (PRWEB) June 20, 2013
Staying true to their December 14, 2012 statement when they became sole owners of Yeh!, twins Jon and Marvin Gurman announced today two more franchise initiatives.
On the heels of a most impressive opening of its first location in Halifax, Nova Scotia, Yeh! has signed a five store franchise arrangement for the Nova Scotia area with Robert Taylor, a highly successful and well respected Halifax businessman. Mr. Taylor started in wholesale and distribution, managing branches for two of Canada' s largest manufacturers and distributors of floor covering. After 10 years in distribution, he opened his own retail store, which he grew to four stores and 50 employees.
In addition, a three store deal has been signed in the Greater Toronto area with the husband and wife team of Isidro and Raquel Oviedo which will bring the number of Toronto locations to five.
On Wednesday, June 12, the company opened another corporate store in Quartier Cavendish which is located in the Montreal suburb of Cote St Luc. The first few days have had outstanding results. By year's end, there will be approximately 30 locations, including five in the US, opened or in the process of being opened.
Founded in 2008 in Montreal, Canada, Yeh! was the first company to bring the exciting experience of self-service frozen yogurt to Canada. Yeh! is part of the JCorp group of companies with its head office in Montreal, Canada.
Yeh! Not just another yogurt shop
For general information: Jack Wiltzer- President (jwiltzer(at)jcorp(dot)ca; 514-384-3872)
For franchise information: Carl Jeffers- Vice President and Director of Franchising (carl(at)yehyogourt(dot)com; 438-804-1193;206-781-1047)