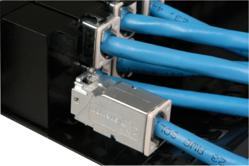 Watertown, CT (PRWEB) June 21, 2013
Siemon, a leading global network infrastructure specialist, is pleased to announce a new Data Center Infrastructure Solutions site at http://www.siemon.com/datacenter with access to Siemon's wide range of data center solutions, Siemon Data Center Design Services and compelling data center customer case studies—all of which elevate the importance of data center cabling as a strategic asset.
The new Data Center Infrastructure Solutions site offers an intuitive, easy-to-use design that allows end users and data center professionals to quickly navigate through Siemon innovative data center solutions that support two to three generations of network switches, servers and storage devices. These comprehensive data center solutions include shielded and unshielded copper solutions from Z-MAX® category 6A to the TERA® category 7A/class FA end-to-end systems, multimode and singlemode fiber cabling systems and plug-and-play assemblies, intelligent infrastructure management, interoperable high-speed interconnect systems, and a comprehensive line of data center cabinets, cable management, and cooling and power systems that optimize space and energy efficiency.
From the site, users can learn about how a high-performance, reliable cabling system is critical to data center infrastructure, receive guidance on selecting and designing the cabling infrastructure upon which data centers rely, and access a variety of educational tools such as Siemon's online Standards Informant for the latest standards information, informative data center white papers and a free data center e-book, Deploying Managing and Security an Efficient Physical Infrastructure. Dozens of current customer case studies offer an intimate look into how Siemon is helping data center customers in markets around the world achieve a standards-based data center infrastructure that offers high-speed performance, enhanced cabling management, superior thermal management and power efficiency for maximum uptime and reliability.
"With 70% of network problems attributed to poor cabling and cabling upgrades being the most disruptive, labor-intensive portion of a data center, it is important for customers to do it right the first time and to understand the importance of the cabling infrastructure to last 10, 15 or more years," says Robert Carlson, vice president of global marketing at Siemon. "As Siemon has focused more on data centers over the last decade with many high-performance product innovations for this critical space, we also felt to need to develop a more data center-focused portion of our website, making it easier for end users and data center professionals to access the standards information, educational tools and solutions they need to succeed."
From the company's revolutionary new product introductions such as its new LC BladePatch®, to its green efforts, global network of Siemon Certified Installers and comprehensive data center solutions, to educational tools, events and information to help navigate data center customers through critical design and deployment considerations, Siemon and its new Data Center Infrastructure Solution site are connecting the world to a higher data center standard.
View Siemon's new Data Center Infrastructure Solution site at: http://www.siemon.com/datacenter
###
About Siemon
Established in 1903, Siemon is an industry leader specializing in the design and manufacture of high quality, high performance low voltage infrastructure solutions and services for Data Centers, LANs and Intelligent Buildings. Headquartered in Connecticut, USA, with global sales, technical and logistics expertise spanning 100 countries, Siemon offers the most comprehensive suite of copper and optical fiber cabling systems, cabinets, racks, cable management, data center power and cooling systems and Intelligent Infrastructure Management solutions. With more than 400 patents specific to structured cabling, Siemon Labs invests heavily in R&D and the development of Industry Standards, underlining the company's long-standing commitment to its customers and the industry.