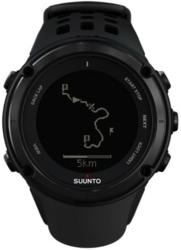 The Suunto Ambit 2 toughest and most complete GPS sports and navigation watches available on the market for 2013
Bozeman, MT (PRWEB) June 21, 2013
The Suunto Ambit 2 black and silver GPS watches are now back in stock at the Heart Rate Watch Company.
"These watches have been out of stock from mid-May until mid-June but now they are back and available to interested buyers", says Rusty Squire, President of the Heart Rate Watch Company. He adds, "The Suunto Ambit 2 is the toughest and most complete GPS sports and navigation watch available on the market for 2013".
AMBIT 2 TOUGH
The Suunto Ambit 2 has all the same functions and features as the new Suunto Ambit 2 Sapphire, minus the Sapphire crystal, and for a $100 lower price according to Squire. He adds, "Weather features, the ability to run 5 apps at a time, more memory and swim features are new additions since the Suunto Ambit 1".
"The Suunto Ambit 2 has a mineral crystal and is still plenty tough", says Squire. He adds, "When chief tester John Yarington crashed right on the Ambit in a lava field and thought he had destroyed the watch it only left a small scratch and he's still using it to this day a year later".
AMBIT 2 WEATHER and NAVIGATION
Track back features, a barometric altimeter, weather alerts, and 3-D compass ensure that the great outdoors presents less obstacles from both weather and navigation. "I've used the track back feature personally to keep myself from getting lost in the back country", says Squire. "The post-exercise maps are impressive and can be shared with friends, training partners or your social network", says Squire.
SPECIAL PROMOTION
From now through July 31st the Heart Rate Watch Company will give a complimentary Goal Zero Guide 10 Battery Pack with every Suunto Ambit 2 sold, a $49 value. "These battery packs are rechargeable and can provide you with two to three remote re-charges of your Suunto Ambit 2 while in the back country".
The Heart Rate Watch Company offers expert advice and consultation for buyers interested in Suunto Ambit 2 or any other heart rate monitor or GPS-based products for fitness.