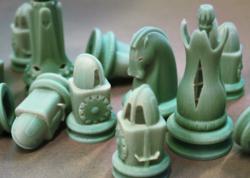 Valencia, CA (PRWEB) June 27, 2013
Solid Concepts' now offers PolyJet GreenFire. PolyJet GreenFire is a material built on the Connex multi-material PolyJet platform. GreenFire has a higher elongation @ break and higher impact strength than other PolyJet and Stereolithography (SLA) materials, providing properties for enhanced functional use.
PolyJet is an additive manufacturing process used to produce prototypes, models, and master patterns for cast urethanes, to name a few. PolyJet is most appreciated for its ability to print in very fine layer resolutions and therefore deliver accurate prototypes for form, fit, and appearance evaluation rather than functional testing. Now, with the addition of PolyJet GreenFire, the process receives an upgrade from the beautiful to the beautifully functional.
GreenFire is more flexible with a high elongation @ break and prints in 0.00118" layer thickness. It has a high impact strength similar to functional thermoplastics and higher heat deflection (thus the "Fire" in "GreenFire"), which adds functionality and sets it apart from other epoxy acrylate materials used in PolyJet and SLA processes. The green color affords product details better contrast, thereby revealing more design aesthetics of the product.
Solid Concepts provides rapid prototyping and custom manufacturing services, with capabilities in PolyJet, Stereolithography (SLA), 3D Color Prints, Selective Laser Sintering (SLS), Direct Metal Laser Sintering (DMLS), Fused Deposition Modeling (FDM), CNC machining, models and patterns, and QuantumCast advanced cast urethanes. Capabilities in tooling and injection molding make Solid Concepts a one-stop source.