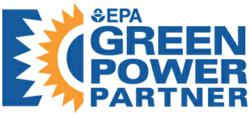 (PRWEB) June 20, 2013
Quest Resource Management Group has joined over 120 organizations since March 5, 2013 in becoming part of the EPA's Green Power Partnership (GPP) program.
Quest RMG, listed in the consulting services category, became an approved partner after purchasing renewable energy certificates, submitting required partner paperwork and completing the review process for the GPP program. Quest first announced its purchase of Green-e certified renewable energy credits as well as Climate Action Reserve certified carbon offsets in the 2012 Corporate Sustainability report.
About Green Power Partnership
According to the EPA, the Green Power Partnership is a voluntary program that encourages organizations to use green power as a way to reduce the environmental impacts associated with conventional electricity use. The Partnership currently has more than 1,400 Partner organizations voluntarily using billions of kilowatt-hours of green power annually. Partners include a wide variety of leading organizations such as Fortune 500® companies, small and medium sized businesses, local, state, and federal governments, and colleges and universities.
About Quest - (http://www.QuestRMG.com)
Quest Resource Management Group is a full service environmental consulting and management company, headquartered in Frisco, Texas. Quest helps Fortune 500 companies to maximize profits and mitigate risks, while minimizing their ecological footprints. Quest clients span across all key industry segments, including food services, hospitality, healthcare, manufacturing, construction, automotive aftermarket and fleet industries. Quest provides North American clients with comprehensive sustainability programs, innovative recycling solutions and proven environmental protection.
Quest prides itself in delivering targeted solutions exclusively tailored to the needs of each respective client. Quest also offers Return on Investment (ROI) and Return on Sustainability (ROS) based road maps to help clients design actionable programs for managing RFPs, defining operational protocols, creating and implementing training programs, and defining best practices. Quest's Sustainability Intelligence™ Dashboard helps clients improve decision making by extracting greater insights through unsurpassed business intelligence.