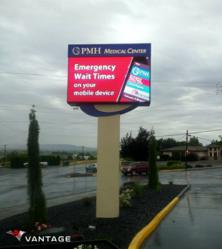 ...the benefits of a LED message sign quickly became apparent; it was the best tool to use for reaching out...
Prosser, WA (PRWEB) June 25, 2013
PMH Medical Center is a full-service, community based, non-profit medical center, dedicated to serving the needs of local residents with an active network of over 40 physicians and associated health professionals, coupled with state-of-the-art medical technology and facilities. The local medical center is now complementing this technology with a new state-of-the-art LED message sign provided by Cascade Sign & Fabrication.
"At PMH Medical Center, patients come first; we are continually polling our patients to ensure customer satisfaction," stated Fred Lamb with PMH. "We feel this new LED message sign is a very effective addition to the hospital to help us advertise many messages in a short time to our loyal community. We always have something happening that will benefit everyone."
Cascade Sign & Fabrication has a long standing relationship with PMH and Fred Lamb, so when it came time to discuss a new signage solution, Mark Cliff, Sales Manager for Cascade, was ready to respond.
"I sat down with Fred and discussed different solutions, but the benefits of a LED message sign quickly became apparent; it was the best tool to use for reaching out to passers-by regarding new events, facilities, and updates, like their new mobile app," said Mr. Cliff.
Cascade Sign & Fabrication built and installed the new sign featuring the Phoenix™ Full Color LED Sign Series from Vantage LED, a U.S. based LED display manufacturer in Corona, CA. Vantage LED also helped by designing some dynamic messages to help kickstart the hospital's advertising campaign immediately upon installation. The hospital has many new features and services to advertise, but also outreach events coming up, like Rock'n'Rods, the Hogue Classic, and the 10th Annual Art Walk and Wine Gala.
Mr. Cliff stated, "We chose to work with Vantage LED, because of their apparent desire to offer that quality and price line we're all about. At Cascade, we take that very serious. They are good people that provide quotes quickly and have an excellent product. On the PMH project, they took the extra steps to make it go smoothly, and I appreciated that."
Mr Cliff summed up, "When they got us, they got Vantage LED."
About Cascade Sign & Fabrication:
Cascade started in 1998 as a result of the owner (Fred Mears) wanting to give a high quality, locally built, and fairly priced signage solution to his already developed client base. Starting in his garage, he quickly built Cascade Sign & Fabrication to what they are now; a strong contending force in the sign industry. They pride themselves on quality in the product they make and the team that makes it.