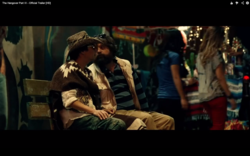 (PRWEB) June 21, 2013
Funny man, Ken Jeong can be seen wearing Robin's Jean "Predator" cargo pants in the latest installment of the box office mega-hit "The Hangover Part III". The lucky pairing occurred while the film's wardrobe stylist, Allison McCosh, was shopping at the Robin's Jean Beverly Hills Store, located at 313 North Beverly Drive in Beverly Hills, California. She loved the cargo pants so much that she included them as a part of his character's look. This particular style for men is available in our best-selling stretch cotton poplin that is both stylish and extremely comfortable to wear. In the film, Jeong reprises the hilarious role of Mr. Chow in what can only lead to more madness and mayhem that fans have become accustomed to in this series with ensemble cast, Bradley Cooper, Zach Galifianakis, Ed Helms and Justin Bartha.
Robin's Jean features a unique collection of jeans, jackets, tops, hats and belts for men and women. Represented by the gold-winged logo, Robin's Jean captures Robin's childhood dream of freedom and flight. Robin arrived in Los Angeles in 1996. His skills combined with talent, caught the eye of the best denim companies in LA. In 2005, he decided to incorporate his passion for designing clothes, riding motorcycles and vintage cars with his fascination of the American spirit to create his own line, Robin's Jean. Today, Robin designs his collection in the United States, and the unique styles truly embody his love for freedom of the open road and big sky.