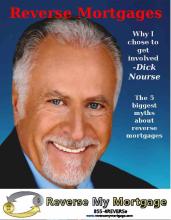 The reverse mortgage calculator is a helpful tool in planning for retirement.
Salt Lake City, Utah (PRWEB) June 20, 2013
Get professional and educated help from reverse mortgage pros at RMM
At RMM there are highly experienced professionals to assist with educating their customers on whether a reverse mortgage is right for them or not. While receiving and HECM loan can have many benefits, there are also many negatives that can come into play. This is why RMM wants to help educate their costumers so that they can make the correct and educated decision before they get themselves into a financial situation that they do not want to be in. The employees and reverse mortgage pros of RMM are available to help answer questions and prepare people for their retirements and get them financially ready.
In what way can the reverse mortgage calculator better help somebody plan for retirement?
With the online tool that RMM plans to have launched on their site in the summer of 2013, people planning on getting a reverse mortgage will be able to get an accurate estimate of how much they will be receiving monthly. This simple to use tool will give people accurate estimates to show them how much they could be receiving monthly for: house payments, medical supplies, monthly income, and also has the ability to show them their estimated lump sum. This tool can be effective in helping people plan for their retirement and to determine if getting a HECM loan is the right move for them.
What are some of the benefits that one can receive through getting a reverse mortgage?
For those seeking a way to enjoy their retirement while avoiding the stresses that can come from certain financial obligations, a reverse mortgage could be the right move. In order to find out whether or not it is, it is advised to consult with the reverse mortgage pros from RMM before making the final decision. RMM is helping people to understand if an HECM loan is right for them, with their reverse mortgage calculator scheduled to launch on their website in the summer of 2013 it will be easier than ever to determine one of these loans is the right decision. The employees from RMM want to help people better plan for and enjoy their retirement by getting one of these loans and educating them on the risks and benefits that come with. With the release of their reverse mortgage calculator people will be able to see what they will be receiving monthly and will help them to further their decision to apply for a reverse mortgage.
For more information about RMM, please visit them at their website: http://www.mortgagereversecalculator.com/.