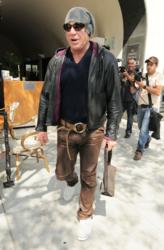 (PRWEB) June 23, 2013
"Expendables 3" actor and fashion fanatic, Mickey Rourke stepped out of a cafe in Beverly Hills wearing Robin's Jean popular "Motard" brown waxed motorcycle jeans. The Oscar-nominated actor was introduced to the brand by Robin's Jean Owner, Robin Chretien, and soon became a fan of the brand. The two struck up a friendship several months ago when they met through a mutual friend. Although they may seem like unlikely companions, they soon bonded over their love of film, motorcycles, dogs and fashion. Rourke has added a few of Robin's Jean denim styles to his rotation now so, be on the look out for his next fashion statement! The actor will star in two films in 2013, "Sin City: A Dame to Kill For" and "Java Heat".
Robin's Jean features a unique collection of jeans, jackets, tops, hats and belts for men and women. Represented by the gold-winged logo, Robin's Jean captures Robin's childhood dream of freedom and flight. Robin arrived in Los Angeles in 1996. His skills combined with talent, caught the eye of the best denim companies in LA. In 2005, he decided to incorporate his passion for designing clothes, riding motorcycles and vintage cars with his fascination of the American spirit to create his own line, Robin's Jean. Today, Robin designs his collection in the United States, and the unique styles truly embody his love for freedom of the open road and big sky.